Bart Scott: The Chiefs Will Not Make the Playoffs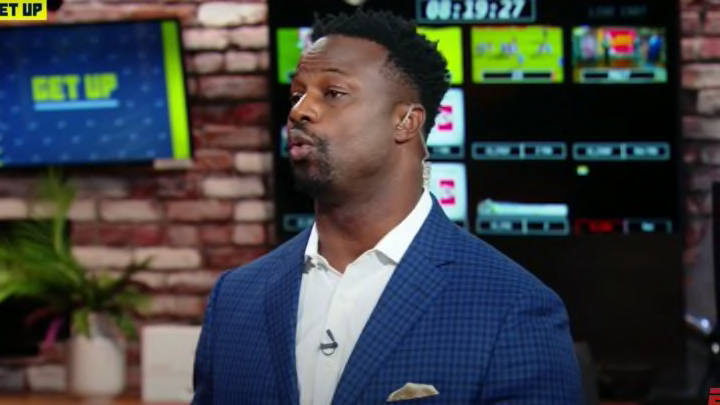 Bart Scott /
This past NFL offseason was not particularly kind to the Kansas City Chiefs. Tyreek Hill was traded after the team failed to come to terms on an extension the All-Pro wideout felt adequate for his services. The Denver Broncos traded for Russell Wilson. The Los Angeles Chargers used many millions of dollars to try to fix all their defensive issues. The Las Vegas Raiders moved on from the dysfunctional Jon Gruden era and brought in well-respected offensive mind Josh McDaniels. In essence, life got a lot more difficult for KC in almost every way one could imagine.
But they still have Patrick Mahomes and Andy Reid, so how bad can things get, really? ESPN's Bart Scott thinks they can get very bad indeed. Scott made the argument on this morning's edition of Get Up that, between the losses the Chiefs suffered and the gains their opponents enjoyed, Kansas City will miss the playoffs entirely this season.
I will say that those who are about to grab pitchforks in response to this take should hold off for a few moments while they peruse the Chiefs' schedule. Because it is as hard as the crew makes it out to be. Six of their first eight games are against playoff teams from last season. The other two are against teams that missed the playoffs by literally one game.
Then, only three of their final nine games will be anything resembling easy-- matchups against the Jaguars, Texans, and Seahawks. Otherwise they get to enjoy matchups with the defending Super Bowl champs, the defending AFC champs, the Broncos twice in four weeks, and two games against their other divisional rivals.
Scott is obviously on the scalding side of the take spectrum but it's not insane to believe the Chiefs may struggle in 2022 more than we've seen since Alex Smith was under center. Mahomes is immaculate and Reid is a genius. Yet they lost one of the league's top wideouts and will face far and away the toughest schedule in the NFL.
It would be stunning if the Chiefs missed the postseason entirely, but Scott might be the early condcutor of the Chiefs under-wins train.