Barstool and Its Bloggers Bet on Mainstream Viability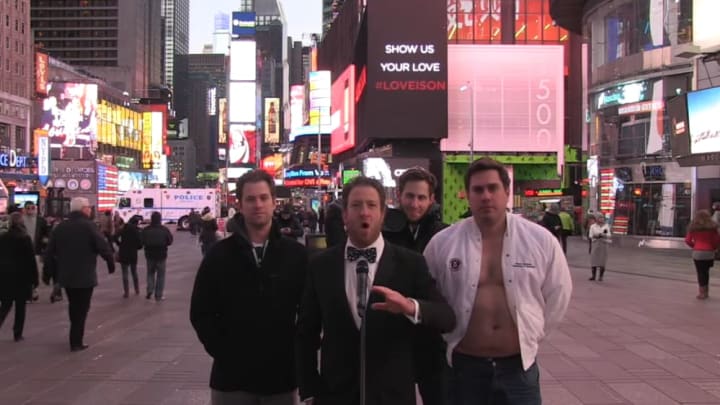 Barstool Sports spent Thursday morning getting raked over the coals on one corner of the Internet. By afternoon, they'd announced that they were acquired by Peter Chernin's media group (TCG). Barstool's founding editor, David Portnoy (Pres) joined the Glass Half Empty podcast to talk about the process of how the deal came together, criticism of the site, and what comes next.
On a Periscope earlier in the day, Pres had said that the deal with PCG valued Barstool at $10-15 million—as we discussed on the podcast, this is not the amount he pocketed—and that he retained a 49% equity stake while selling the majority of the company to the conglomerate.
The most obvious immediate question was whether this evident ambition to scale would affect the site's content—a combination of voice-driven sports blogging, diverse multimedia fueled by performance artistry, and, unapologetically, tabloid fodder, off-color humor (which can appear racist, classist, and misogynist to passersby who aren't part of their core audience), and smut.
"Content will literally not change at all," Pres said on the Periscope. "I'm totally in charge of content […] It is written into my contract that I do not report to the [COO that we are going to hire]. I report to nobody except Peter Chernin. People are just going to have to fucking trust me that I would never do this deal if I thought the content was changing an ounce […] I did not make enough money on this deal where I would sell it and think the content was changing."
Chernin was the COO of Rupert Murdoch's News Corp from 1996-2009 before launching out on his own with a venture that now includes movie production (one Planet of the Apes sequel grossed over $700 million), television (where a 2014 NYT profile said the firm has struggled in comparison to its Hollywood success), and a hodge podge of Internet endeavors domestically and abroad. In the initial announcement, Pres referred to him as a "big swinging dick at the cracker factory," which Chernin apparently said was the nicest compliment he's received in a decade.
Peter Chernin; Photo via Getty /
There aren't so many sports blogs that have started independently and been sold, and it's an impressive feat to accomplish from scratch. ESPN acquired Henry Abbott's TrueHoop in 2007 and built a network around it; TBL was purchased by Fantasy Sports Ventures in 2010 for "low seven figures" and was later acquired by USA Today Sports (Obvious disclosure: I work here). Mike Florio licenses ProFootballTalk to NBC and Clay Travis does the same with Outkick the Coverage and Fox.
Barstool will be making changes on the commercial side. Chris Spagnuolo, the former Guyism co-founder who'd had a dual role in business development and blogging (which includes a weekly roundup of the most, um, evocative Tinder profiles), will be moving exclusively to an editorial role. As Recode reported, Jesse Jacobs and Mike Kerns from TCG will join the brand's board, and several others will be brought on to help ideally, from their perspective, push the company's monetization into the stratosphere.
"The merger with Chernin is great for resources and growth but more than anything, it gives a lot of credibility to what Dave has built Barstool into as a brand," says Spagnuolo in a text message. As previously alluded to, the brand is polarizing. Few who are aware of Barstool's existence have just a lukewarm opinion of it. It's a love or hate thing, and many of its detractors are not content to ignore a site they feel is culturally insensitive, leaving it alone to its own audience.
As stated by the piece in SI's Cauldron, which was published by a freelancer who had never previously written there, when somebody publicly criticizes Barstool or one of its writers, there's a longstanding pattern where acknowledgement of said attack will spawn a torrent of insults from the legion of loyal "Stoolies." Inevitably, some of these will be profoundly hateful and vile.
While this has been going on for long enough that anybody who swings at Barstool should know what's coming—and the writer for the Cauldron not only expected it, but made a point several times to goad it—it is, in my opinion, a bad look for the site to continually escalate these fights when they know how a faction, however small, of their readership will behave.
"I don't really look at it as sic'ing our readers on them," Pres told me. "There's a certain naivety, in my mind at least, to think that you can openly attack one of us, basically out of the blue, when we're not talking to you and we're making what, in our world, is a pretty clearly defined joke." (Please listen at the 9:30-mark for the full context of his answer of why he won't just mute them.)
Barstool responded on Thursday to accusations that it "weaponizes social media" by stamping the phrase on the top of the site, and, of course, printing it on t-shirts.
The term kayfabe, which means the act of staying in character in professional wrestling, can apply to the Barstool staff. As the best pro wrestlers' characters are magnified, absurdist extensions of their genuine selves—WWE outcomes are scripted, but would you say Randy Savage, Steve Austin, and Ric Flair were acting?—Barstool's bloggers write and speak in deliberate hyperbole where words are not intended to be interpreted at their literal meaning. This dynamic is an acquired taste, and it's not for everyone.
Another criticism Barstool faces (and TBL does as well) is the existence of posts that essentially boil down to look at this hot girl. The traffic meter indicates that these are quite popular, but there are many who feel that this content is distasteful. Nevertheless, when that attack was coming from a vertical on SI, where the Swimsuit Issue is a cash cow and the Hot Clicks Lovely Lady of the Day is published, it rings hollow.
While much of Barstool's content consists of quick-hit aggregation of sports and weird news, they also produce original sketch comedy videos ranging from figure skating contests judged by Gronk to pitching Mark Cuban overtly bad business ideas to blog rescue with Jon Taffer. Streamlining and capitalizing on these collaborations, along with audio and video commentary that is more in-tune with the daily news cycle, is the biggest reason for the move to TCG, and a Manhattan office where there will be a studio.
"As you can imagine doing a daily video show and podcast on Skype gets frustrating both with flow and quality," Barstool Chicago writer Dan Katz (Big Cat) says in an email. "TCG has given us the resources and structure where we can all be together in the office creating content for our audience that is of a much better quality. I know it will sound sappy to say that but our audience and trying to bring them more and better content is ultimately what drives this move."
Big Cat and New York blogger Kevin Clancy (KFC) are Pres's lieutenants who are the two biggest individualist draws; Barstool also has outposts in Philadelphia and Washington DC whose writers are moving to New York, and one in Iowa, who at least for now is staying put. Portnoy's fellow Boston staffers will be joining him in NYC. Their college sports blogger Kmarko, already an NYC resident, has been given the editorial power to bring on more staffers.
For Big Cat (who generally stays above the fray of what Pres calls the gutter wars), this move from Chicago to New York was not an easy decision. Over the past couple years, he's turned himself into a local celebrity and almost an honorary athlete—Blackhawks players, for example, have sought him out to partake in Stanley Cup celebrations; Cubs and Bears wear (and effectively promote) t-shirts that he sells on the site. While he declined to directly answer whether he got equity in the TCG deal, he says that "compensation helped push the decision to take this risk and move."
The decision to be acquired and move to New York is not totally without risk. Barstool's lived up to its "by the common man, for the common man" mantra by just being a group of guys with their computers. As much as Pres promises the content won't change, the production value will, by design, improve dramatically. This sounds like a slam dunk, but part of Barstool's charm (to me, at least) has always been its bloggers' resourcefulness with low overhead.
Furthermore, while $10-15 million is a big valuation for an independent website and there is tremendous upside if all breaks right, it's also not a massive investment in the grand scheme of things for TCG. The aforementioned NYT profile pegged the net production cost of the movie Exodus at $140 million. In 2014, TCG and AT&T invested a total of $500 million in a joint venture for online video.
In a year or two or three, Barstool will be expected to have scaled. Going into the deal, TCG knows that Barstool can be a hard sell in some branding circles. "Neither of us are oblivious to that fact," Pres told me. "You've got to find brands that understand what you do, and probably dig deep with them. In a situation like that, I would probably treat it no different than how I treat it now. We still run into deals like that because we're not going to go off-voice, and sometimes we will bend a little bit, if the money's right."
"Ultimately, I'm sure there will be times where the sales side of the house wants to do things, and they're going to be pressuring me to make changes," he continued. "To be honest, that's no different than how we operate now. We have one freelance sales guy who would love to tone down or do safer things. I always judge it—can we get away with it with our readers? Is it still on-point?—and ultimately that decision will remain mine. So, as much as sales may want to do something, if I'm not comfortable with it from a content perspective it's not gonna happen."
Pres, and the rest of the Barstool staff, know these risks, and they're betting on themselves to go mainstream in spite of them.
"I'm happy," Pres said on Periscope. "I've had a couple nights where I've been like, 'Oh, I don't own Barstool anymore,' — it's been my baby for 12 years, so it's a little weird but at the same time I think the fit is right. I'm a gambler. I'm a push all my fucking chips to the middle kind of guy. If we're gonna take this to be, like, a legitimately huge brand that everybody has heard of, these are the people, this is the time. I swing for the fences. If I miss I miss."
Listen on iTunes | Listen on Stitcher | Download | Subscribe
PAST GLASS HALF EMPTY PODCASTS:
*denotes Pigsplosion podcast