Baker Mayfield Throws Touchdown Pass While Taking Brutal, Dirty High and Low Hit From Saints Defenders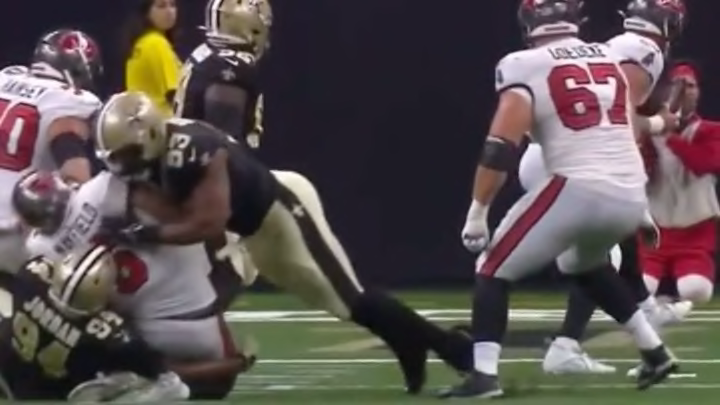 Baker Mayfield and the Tampa Bay Buccaneers traveled to Louisiana to play the New Orleans Saints in Week 4. The Bucs took the lead in the second quarter when Baker Mayfield hit tight end Cade Otton for a four-yard touchdown pass to cap a 17-play, 87-yard drive that ate nearly nine minutes off the clock. And boy did Mayfield pay for it as he got hit both high and low by Saints defenders while throwing the pass.
That's Cameron Jordan grabbing Mayfield's waist and taking him down and Nathan Shepard hitting Mayfield high and late. The result of the play - besides the Tampa touchdown - was Mayfield got bent in half awkwardly and Shepard got called for roughing the passer.
This looked bad at full speed and even worse when you saw the slow motion replay from behind. Mayfield clearly got rid of the ball before Shepard dove at him. Just an egregious defensive play. Luckily, Baker was able to walk it off and didn't miss any time.