Austin Reaves Wildly Kicked His Leg and Fell Down Trying to Draw a Foul on Grayson Allen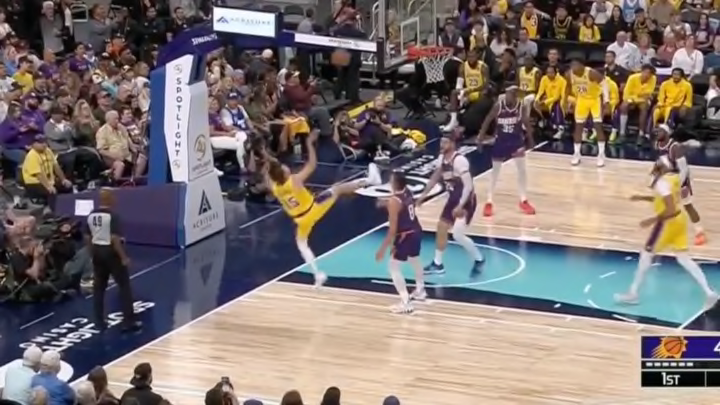 The Phoenix Suns and Los Angeles Lakers met in a high-stakes preseason game on Thursday night with the Suns winning, 123-100. The two teams will meet again next week in the regular season on TNT so nobody wanted to give away any secrets last night. Except for Austin Reaves who was so far into his bag that he debuted a move he must have stolen from Draymond Green.
Reaves drove hard left against Grayson Allen before stopping for a jumper. And that's when he unleashed a kick that would have sent just about anyone in the NBA flying across the court if it had made contact. As the announcer said, he was looking for the contact. What wasn't mentioned was that he was looking for contact with the defender's face with his foot.
Reaves had better be careful. If this becomes a part of his game, it will undo all the goodwill he's earned despite the fact that he plays for the Los Angeles Lakers. He's a versatile and exciting player who was a key to Team USA's run in the FIBA World Cup. There's a lot to love about Reaves. Doing a Dillon Brooks impression will not help.