Athletics Fans Throw Trash on Field After Reverse Boycott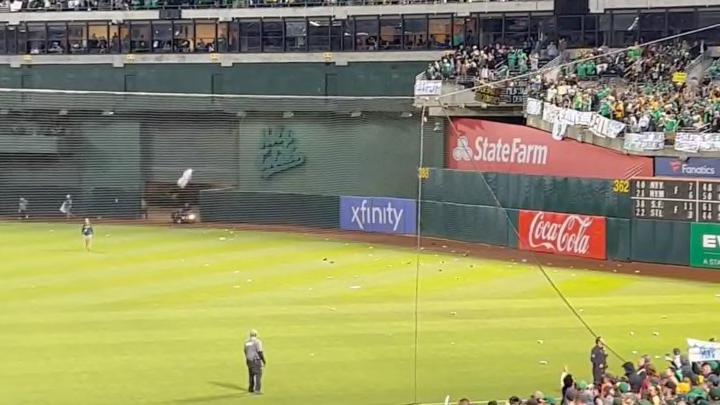 A's fans /
Last night fans of the Oakland Athletics put on a hell of a show. After the A's spent the first few months of the year with the worst attendance in all of Major League Baseball by a significant margin, 27,000 fans showed up to their game last night against the Tampa Bay Rays as part of a "reverse boycott" in which they spent most of nine innings demanding John Fisher to sell the team instead of moving it to Las Vegas.
The place was rocking all night except for the first batter of the fifth inning, when the crowd fell silent before bursting into a deafening "Sell The Team" chant that delayed play as the pitcher thought his PitchCom had broken.
The fact that the A's would go on to earn a come-from-behind victory against the dominant Rays was really the cherry on top. Sports can be special.
Sports can also be bad, as evidenced by after the game, where the more rowdy group of reverse boycotters felt it appropriate to toss trash onto the field.
I am all for embarrassing the rich owner who intentionally tanked several seasons so he could "justify" moving the team to Vegas but it's not like John Fisher is gonna be on the hook to pick up all that trash. The poor janitorial staff doesn't have a say in the relocation!
The one entity who benefits from trash on the field is the possum that lives in the walls.