Arsenal, Manchester United Fans Brawl During Match
A little soccer and a little ear biting.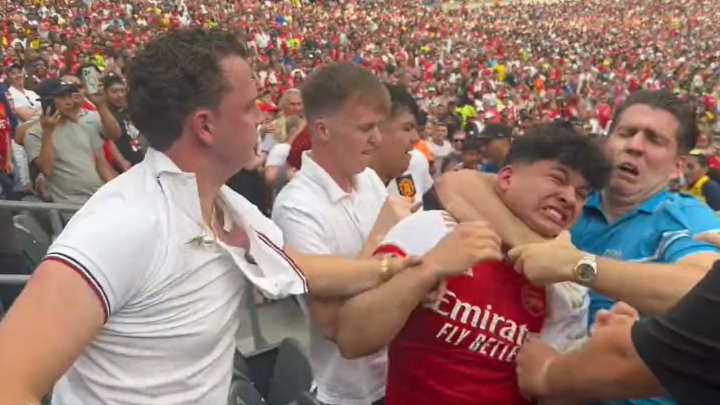 Arsenal and Manchester United faced off at MetLife Stadium this weekend in what was supposed to be a friendly, preseason match. It was anything but in the stands. Fans from both teams engaged in a violent brawl in the bleachers, with dozens of punches thrown and one guy trying to bite another's ear.
United won the match on the field 2-0 thanks to goals from Bruno Fernandes and Jadon Sancho. The teams opted to engaged in a penalty shootout after the full 90 minutes in order to get some practice in. Man U. won the shootout 5-3. Most of the 82,262 fans seemed to be enjoying a fine sampling of Premier League soccer action in the U.S., but one block of fans was less enthused.
Check this out:
That is a seriously violent fight. We obviously don't know what kicked things off, but it was an ugly one. Made all the uglier by the fact that it sure looks like the guy in the blue shirt went Mike Tyson on Evander Holyfield and attacked with an ear bite:
We don't want to accuse anyone of anything and it could just be the angle, but it certainly looks like Mills Lane needed to step in and call that fight off.