Antonio Brown Lost His Mind and Quit the Buccaneers Mid-Game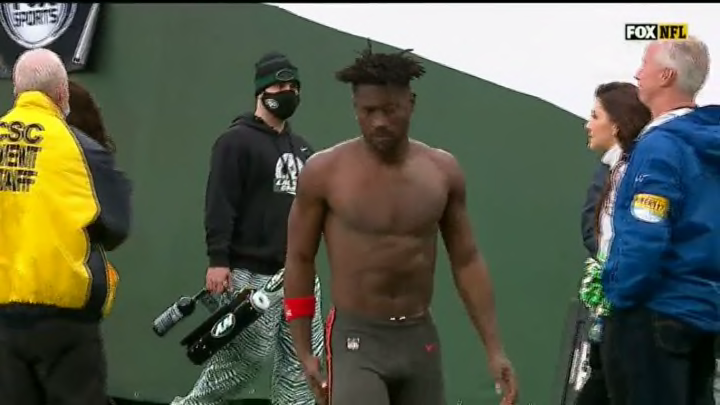 Antonio Brown apparently didn't feel like playing any more on Sunday. In the middle of the third quarter, during a Tampa Bay Buccaneers possession, Brown just took off his jersey and pads and jogged to the locker room while waving to the crowd. It was bizarre.
Check this out:
The Bucs were losing to the New York Jets 24-10 at the time and Brown had three catches for 26 yards in the game. Maybe he was frustrated, but that is absolutely no way for an NFL player to act.
Mike Evans tried to talk to Brown but the former All-Pro wasn't having it:
Buccaneers coach Bruce Arians already has already had multiple issues with Brown, so we'll see if this is the last straw. Especially after he used a fake vaccine card in an attempt to skirt the league's health and saftey protocols.
Brown's relationship with Tom Brady may be the only thing keeping him on the team at this point.
UPDATE: Apparently Arians benched Brown before his tirade.
UPDATE No. 2: Bruce Arians says Antonio Brown is no longer a Buc: