Anthony Lynn's Gotta Go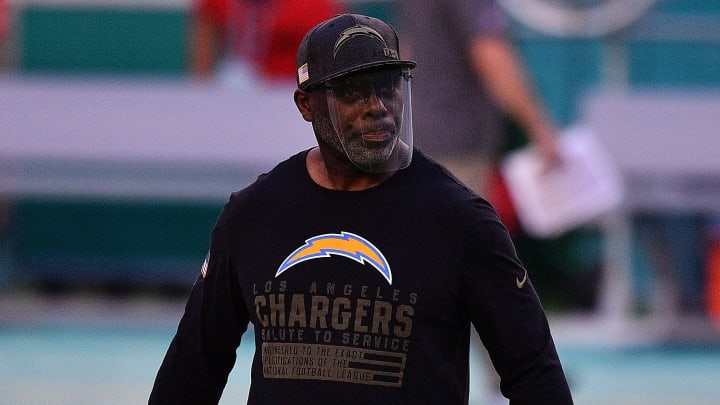 Anthony Lynn. / Mark Brown/Getty Images
Anthony Lynn's resume as Los Angeles Chargers head coach is littered with so much red marker any teacher would give him an F for his performance during three-plus years leading the franchise. But if the Chargers' brass is looking for one singular example of why he needs to be fired, they need only play the tape from today's matchup against the Buffalo Bills. Hell, just watch the last minute of the game and you'll know Lynn isn't qualified to lead the team any longer.
In the Chargers' 27-17 loss against the Bills, Lynn mishandled several key situations that fall directly on the head coach's shoulders. The most egregious came in the final seconds of the game when the Chargers, out of timeouts, completed a Hail Mary to get the ball to the Bills' 1-yard line. There, with 24 seconds left, they called an inside handoff to Austin Ekeler. It failed and the team had to rush to the line of scrimmage for a quick-snap pass that also failed. They wound up failing to score and wasted an opportunity to extend the game, but it wasn't the only time Lynn's decision making cost them against the Bills.
Just before halftime, Lynn decided to call a timeout with 21 seconds left and his team facing fourth down on their own 45. The Chargers had already wasted more than a minute and a half of the clock with their methodical "hurry-up offense" at that point, so why call the timeout? To punt the ball. It was a total waste of a timeout that didn't come back to haunt the team, but was another example of his horrible use of timeouts, which did come back to haunt them in the second half.
With the Chargers at the Bills 8-yard-line facing fourth down with 10:52 to go in the game, Lynn ran onto the field to argue a call. The Chargers field goal team wasn't able to get in place on time to kick it so Lynn had to call a timeout. Obviously, that would have been helpful later in the game, but it was just another example of an issue Lynn has faced throughout his tenure leading the Chargers.
In his three full seasons plus 10 games this year as the Chargers head coach, Lynn has gone 29-29 with one playoff appearance, a solid mark for a team with a history of futility. However, he's just 3-16 in one-score games over the last two years, a result derived from shoddy clock management, in-game adjustments and play calling. Couple that with the fact that the Chargers have blown double-digit leads four times this year and it's clear a change of leadership is necessary for Los Angeles.
From all accounts, Lynn is a well-liked coach with the backing of his players. However, he's holding the team back with his terrible clock management and decision making in important situations. With a young quarterback in Justin Herbert showcasing All-Pro potential and a talented roster of high draft picks around him, the time is now to make a move at head coach. It will need to be someone who can develop young talent, but equally important, it needs to be someone who performs their best in the crucial moments, which Lynn does not.