Latest NBA Leads
Lakers Season Off to a Disastrous Start as They Fight Fans and Each Other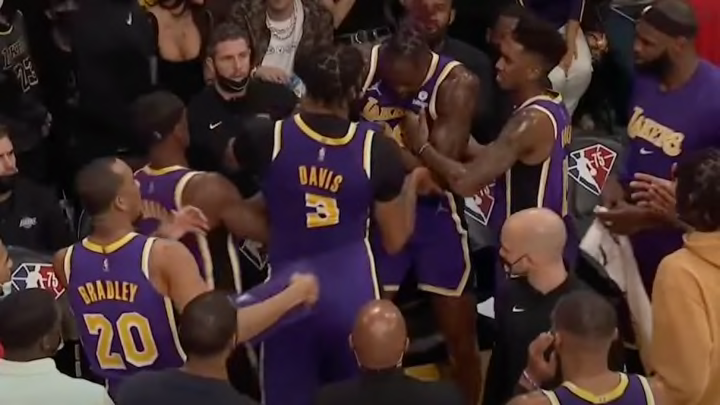 Anthony Davis and Dwight Howard on the Lakers bench. /
The Phoenix Suns beat the Los Angeles Lakers, 115-105, at Staples Center on Friday night. The final score does not come close to indicating how poorly the evening went for the Lakers.
FIrst of all, the Suns kicked the Lakers butts during the second and third quarters. Phoenix outscored LA 34-18 in the second quarter and were up as much as 32 late in the third. On top of that, the Lakers had incidents. During the first half Anthony Davis and Dwight Howard had to be separated on the bench.
Thne during the second half Rajon Rondo put what looked like a finger gun in a fan's face. The fan slapped it away and Rondo put it right back and... dropped the thumb hammer? I guess I've never thought much about the mechanics of a finger gun. However you want to describe it, it seems pretty menacing. Security rushed over to escort the fan from his expensive seat.
To make matters worse, Magic Johnson was shocked to see what transpired between Dwight and AD.
Somebody get Magic a fainting couch. While they were defintely having words, it did look a lot like Dwight stumbled because of the close quarters and proximity to the bench. It's not like these two are new teammates. They went through the NBA bubble together and won a championship together.
Having said that!
This is a very rough start for the Lakers. They're 0-2. They're fighting amongst themselves and the fans. Russell Westbrook looks about as bad as most people expected. If they lose to the Grizzlies on Sunday they will overshadow the NFL on every sports debate show next week, which will greatly annoy everyone.