Breaking Down the Crazy Angels-Mariners Brawl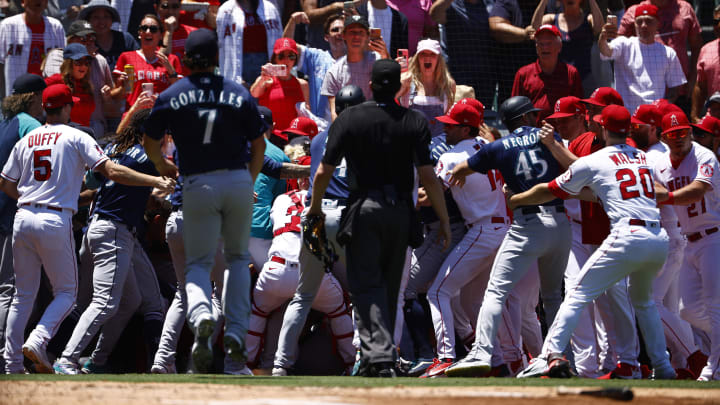 Seattle Mariners v Los Angeles Angels / Ronald Martinez/GettyImages
The Los Angeles Angels and Seattle Mariners got into an old fashioned bench-clearing brawl on Sunday. But it wasn't the modern "hold me back bro!" pushing and shoving nonsense, it was a legitimate fight. We're here to break down the battle that harkened back to MLB days of yore.
This all began when Angels starting pitcher Andrew Wantz nailed Mariners outfielder Jesse Winker with a fastball to the hip to open up the second inning. That followed Wantz throwing a ball behind Julio Rodriguez's head in the first inning, and Mike Trout being ticked off about a ball being thrown near his head Saturday night. Winker was not happy about being plunked with a 91 mph heater and quickly began jawing with the Angels dugout.
Here's video of what happened.
Winker immediately tried to take on Angels interim manager Phil Nevin and the team's entire roster, and had to be held back by third base umpire Adrian Johnson. It didn't work. Winker's teammates immediately jumped out of the dugout to back him up and two waves of players crashed into each other.
Here's a shot of Winker getting hit in the face by the injured Anthony Rendon:
A melee of punches and wrestling took place, but it wasn't normal half-hearted action we're used to seeing from MLB players. These punches and grabs had intent behind them. Then, of course, both bullpens joined the action. Side note: Ever wonder why the opposing bullpens join the action by running in next to each other, but never actually fight on the way in? Is there some rule that they have to join the main brawl before actually exchanging pleasantries?
While some in the mix were attempting to hold players back, they were ineffective. Even when it calmed down a bit, things got set off again. It lasted for a full three minutes. The game itself was stopped for 18 minutes and eight players were ejected. As Winker left the field he had a message for Angels fans:
Angels closer Raisel Iglesias even lost his mind and chucked a perfectly innocent box of sunflower seeds in the Mariners' direction.
That's actually a really impressive throw.
I think it's safe to say this one isn't over. These two teams will face each other a lot the rest of the season and we're likely to see more fireworks down the road.