Angels Fan Can't Bear to See Another Comical Collapse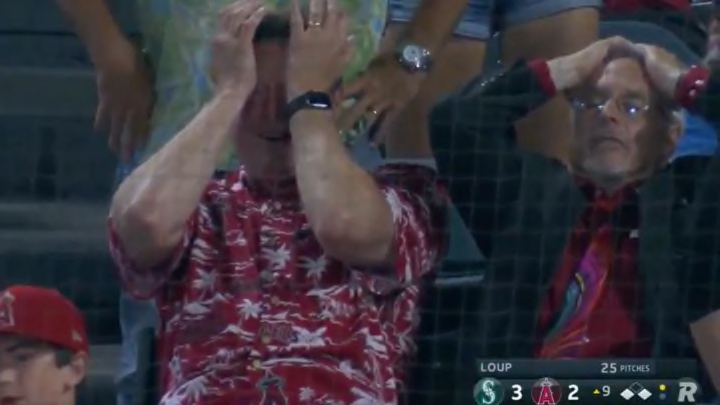 It happened again. /
The Los Angeles Angels are an inexplicably bad baseball team. When the roster boasts a two-way superstar the likes of which we haven't seen in a century and a center fielder considered by most metrics to be one of the top players in the history of the game, you'd figure the floor was pretty high. The Angels have spent the last two years proving that to be incorrect. They finished 2021 eight games below .500 and are on pace to be worse this year, currently sitting at 51-65 and fourth place in the AL West.
The Angels experience can be neatly surmised in the below video. Los Angeles was tied with the Seattle Mariners in the top of the ninth with runners at the corners and one out. Julio Rodríguez hit a liner to the second baseman, who promptly dropped the ball. The Angels managed to get the runner on third into a rundown but the bang-bang nature of the play confused all the defenders and nobody covered home after the catcher ran up the third-base line, leading to a failed attempt to throw out the guy sprinting to third. The Mariners scored.
And the fans in the home stadium were in great pain.
It really is the perfect 2022 Angels play because things went so wrong due to the very specific circumstances. Los Angeles is capable of executing a normal rundown but the fact that the play started with a dropped liner at second threw everybody off just enough to lead to a game-changing mistake. Things may have been salvaged if the pitcher didn't slip and fall once he realized he needed to cover home. Hell, they may have even managed to get an out at third if the third baseman didn't double-pump because he wasn't sure the left fielder would get to the base in time.
Of course, it couldn't stop there. Not for the Angels. The Mariners proceeded to score three more runs that inning to slam the door shut. Los Angeles couldn't muster even one run in the final half and everybody left disappointed again.
No wonder those fans struggled to watch.