Packers Fan Pours Beer on Amon-Ra St. Brown During Lambeau Leap With Lions Fans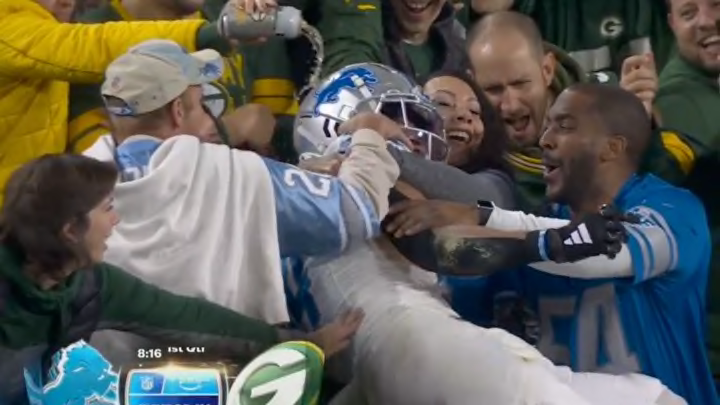 The Green Bay Packers got the scoring started at Lambeau with a field goal during Week 4 matchup against the Detroit Lions. On the next possession Jared Goff hit a wide open Amon-Ra St. Brown for a touchdown to give the Lions a 7-3 lead. St. Brown celebrated by doing a Lambeau Leap into the arms of a group of Lions fans with some very good seats. A Packers fan responded by pouring beer on him.
It's not the first time that someone jumping into the stands after a touchdown has had some beer spilled on them. However, this is notable because how did Lions fans get seats that close to the field? A quick zoom out and you'll see that there were Lions fans all over Lambeau on Thursday.
That is kind of an embarrassing showing for the home team fans. Jordan Love has looked good so far and the Packers are 2-1, so it's not like Green Bay fans have any reason to tune out yet. This is just a hungry Lions fan base just gobbling up seats on the secondary market and turning one of the most historic home field advantages into a neutral site game.
This certainly would not have ever happened on Aaron Rodgers or Brett Favre's watch.