Allie LaForce Talks Hoops, How People Still Don't Know Her Name & What It's Like Having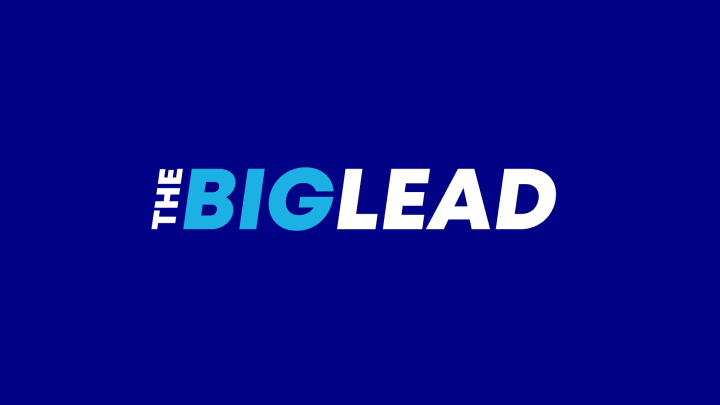 NEW YORK — Here's guessing this scenario has played out more than a few times over the last year or two. Allie LaForce shows up on the sidelines of a CBS-televised sporting event and (cough, cough, male) viewers run to their laptops or phones to Google her. From there most Internet sleuths learn, at most, two things about her: that she's a former teen beauty queen and she's engaged to Los Angeles Angels reliever Joe Smith.
Most folks sitting home on the couch are probably unaware the 25-year-old Ohio native played basketball at Ohio University for two years as a walk-on, even if it's featured on her Wikipedia page. Given the other notes on her resumé, this nugget is easy to overlook. LaForce is hopeful some of that basketball acumen comes across the screen when she's interviewing coaches Tom Izzo, Fred Hoiberg, Kevin Ollie or Tony Bennett this week during the NCAA Tournament East Regional at Madison Square Garden.
"I'll tweet something out, 'man this makes me miss my playing days,'" LaForce told me Thursday during a CBS/Turner media session at the Garden. "But I have no idea how much people pay attention to that."
Shortly after she graduated from Ohio, LaForce began working for WJW in Cleveland before CBS snapped her up in 2012.
Like many women in the sports media industry, she's received the usual putdowns — in some quarters  — that the only reason she's on the sidelines is due to her looks, which did help her net Miss Teen USA honors in 2005. Is that sort of blanket criticism something she worries about?
"Women in this business are always going to battle the, 'you're only on TV because you're a pretty face.' Am I going to sit here and say looks don't play a role? I'm not," she said. "But I'm also going to say I have credibility in a lot of other ways, like being a former player. I worked my butt off in local TV and in college. I graduated early. I know that I've earned my keep and there's a reason why I'm here."
That said, LaForce's looks — and relationship with a professional baseball player — certainly make her fodder for sports blogs and site such as ours. Again, LaForce said she tries not to get too wrapped up in what is written or said about her.
"I don't think the attention ever goes away," she said. "When I worked in Cleveland it was equally as much attention. Not on the national level, but the local. You have to be selective what you read and what you listen to. You have to be confident in your abilities that you've earned your spot with whatever you're doing no matter what they say."
For whatever the reason, some people — be they jealous colleagues or random people with a Twitter account — tend to get very upset when rumors circulate about female media members developing romantic relationships with athletes. For example, NESN reassigned its Red Sox sideline reporter, Jenny Dell, after her relationship with third baseman Will Middlebrooks became public.
LaForce, who met Smith while working in Cleveland when he pitched for the Indians, says it's her personal life and it should be treated as such. It's hard to fault her logic. CBS doesn't televise baseball nor does Smith's work as a late-inning set-up man do much to affect LaForce's job on the sidelines or hosting "Lead Off" late nights on CBS Sports Network.
"I would just say, be careful not to typecast everybody in the media who's dating an athlete in the same category," LaForce said. "All situations are completely different. It's your personal life, you should be able to do what you want with it. I'm not the Indians or Angels beat reporter. I'm not in their locker room every day covering the team. Joe and I have an awesome relationship. We have similar travel schedules. We have similar demands. We're in the spotlight in similar ways. We both love sports. We talk about sports all day. It's easy that we're compatible and understand each other's careers."
Smith and LaForce set their nuptials for January. The running joke for the couple is when Smith checks into a hotel, everyone assumes he's using an alias.
"It's my own personal decision and my own happiness," she said. "I'm smart enough to know if something is going to affect my career or his career."
Although the world of basketball and beauty pageants don't crossover very often, if ever, the experience from winning Miss Teen Ohio 2005 — and other contests — helped LaForce as she transitioned into television.
"The only thing is, in basketball everything is muscle memory. When I'm shooting a free throw in a pressure situation, I've shot a thousand free throws that week, whereas in a pageant you haven't rehearsed an answer to a question you didn't know was coming a thousand times," LaForce said. "I will say a pageant and broadcasting are very similar for that reason because you don't know what's coming. You have to live in the moment. You to have to be well-versed in all things. You have to stay in shape. There are more parallels there than in basketball."
Although she worked for CBS as a sideline reporter in the AFC Championship Game in January and gained a bunch of new Twitter followers in the process, LaForce still remains relatively unknown. She hasn't approached that Erin Andrews level of fame, as of yet. It means she's not expecting random people to buy her a blender that's listed on her wedding registry, either.
"People sometimes come up to me, 'I'm your biggest fan, can I take a picture' and I'll ask them, 'what was my name again?,'" she said. "And they'll be like 'Uhhhh I have no idea.' But you're my biggest fan? They just want a picture with the girl on the sidelines."
Another safe guess: LaForce won't be able to enjoy that level of anonymity very much longer.