All 'The Office' Christmas Episodes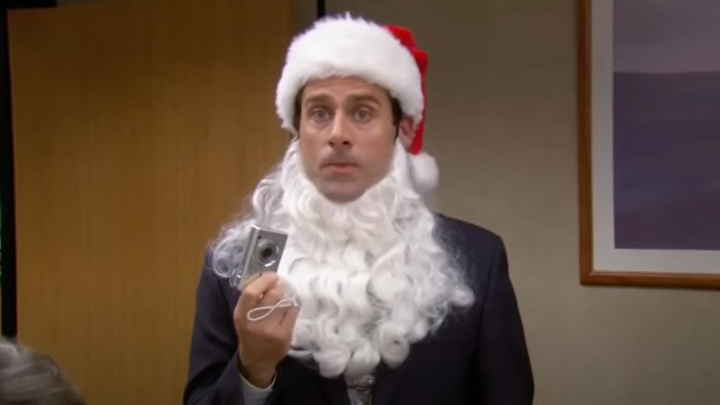 The Office ran for nine seasons and aired seven Christmas episodes. It's been a decade since we celebrated with our friends from Scranton, but they can still make you as uncomfortable as they did back then. Many traditions were celebrated and multiple people donned the Santa suit. Here are some highlights.
Christmas Party, Season 2, Episode 10 (2005)
The Office's first Christmas episode aired right as the show was finding its footing and seems a little more important now as it was featured in a callback in the finale years later. Watching it now feels a little dark and certain former cast members probably think you wouldn't even be able to say Christmas anymore, but it really is how an office Christmas party would go at Dunder Mifflin.
A Benihana Christmas, Season 3, Episodes 10 & 11 (2006)
The branches had just merged and this episode gave Pam and Karen a chance to bond while fighting with Angela via the creation of a second committee that plans parties. Meanwhile, the boys went out for some hibachi and Michael gave away a bicycle.
Moroccan Christmas, Season 5, Episode 11 (2008)
If The Office was Game of Thrones, well, the head of the party planning committee sits atop the Iron Throne. In this case, it's Phyllis throwing a themed Christmas party to the chagrin of Angela. Meanwhile, Dwight sells Princess Unicorn dolls for a profit, Meredith sets her hair on fire and Phyllis reveals that Angela is having an affair with Dwight. But Andy misses the announcement.
Secret Santa, Season 6, Episode 13 (2009)
Michael gets upset that Jim picks Phyllis to play Santa. The Scranton branch briefly believes they will be losing their jobs. Michael actually gets Dwight a thoughtful Secret Santa gift, while Andy terrorizes Erin with a bunch of birds from the 12 Days of Christmas.
Classy Christmas, Season 7, Episodes 11 & 12 (2010)
The return of Holly excites and then devastates Michael. Angela introduces The Senator to the Scranton branch and Oscar immediately knows he's gay. Pam gets Jim a comic book about Jim. Darryl's daughter is sullen, but eventually won over by a vending machine.
Christmas Wishes, Season 8, Episode 10 (2011)
Very late stage Office with Robert California instead of Michael Scott. Erin and Andy have replaced Jim and Pam as the couple you're supposed to be invested in. Jim and Dwight prank each other to try to get the other to lose their Christmas bonus. Erin and Meredith both get drunk.
Dwight Christmas, Season 9, Episode 9 (2012)
The Party Planning Committee dropped the ball so Jim has Dwight share his weird traditions. Andy is on a boat somewhere. Erin watches Die Hard with Pete. Darryl gets drunk because he thinks Jim is leaving him out of Athlead. Jim learns that there are multiple buses to Philadelphia, which is only 2.5 hours from Scranton.