Bryce Young Looking Like Alabama's Next Big Thing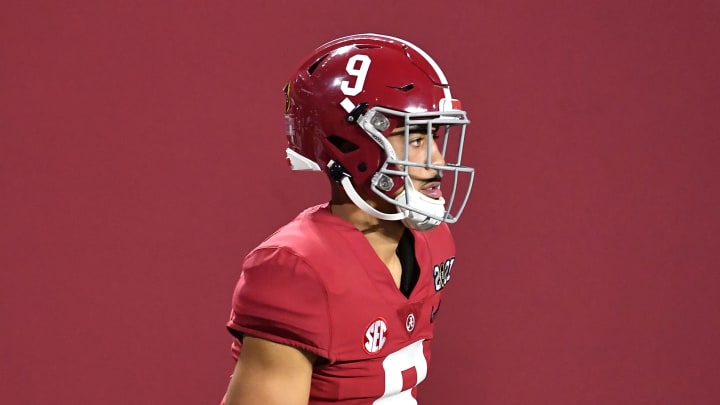 Bryce Young / Alika Jenner/Getty Images
For the second straight season, the Alabama Crimson Tide enter spring practices with a hole at quarterback. Tua Tagovailoa left for the NFL after the 2019 season and Mac Jones stepped in without missing a beat, leading the team to yet another championship. Jones is now NFL-bound and projected to go high in the first round.
That opens up an opportunity open for one of the QBs on Alabama's roster to step up and take the mantle for the best team in college football. In the Tide's first televised spring game that took place this afternoon, it sure looks like Bryce Young will be that guy.
Young was a five-star recruit out of the class of 2020, spending last season watching and learning behind Jones. He's closer to Tagovailoa than Jones in terms of size and skillset, defined as a dual-threat QB by 247 Sports. He looked good in the two above clips, especially in terms of his pocket awareness.
He finished the first half of the spring game with 251 yards and a TD, completing 16 of 26 passes. Very encouraging early on for Nick Saban and Co., even if spring games are about as meaningful as NFL preseason or MLB spring training.
The Crimson Tide will be title favorites. Again. And they aren't lacking for talent at any position. But an electric QB has proven to be the difference for Alabama between dominant and unbeatable. Young will try to bridge that gap as he battles to prove he deserves the starting job and lead the Tide to success for at least the next two years.