Latest NFL Leads
Alabama Pro Day 2022 Date, Time, Schedule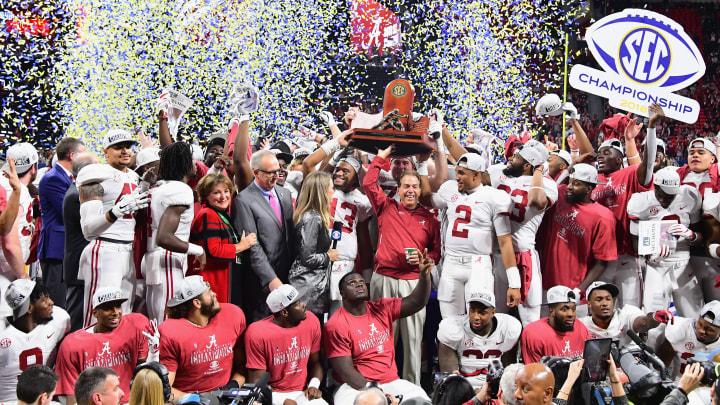 Alabama / Scott Cunningham/GettyImages
The 2022 NFL Draft will take place on April 28 and run through April 30. The NFL Combine runs the week of March 1 through March 7. But there are complications with the combine this year that will likely lead to more than a few top prospects passing on going to Indianapolis and instead prepare to show out at their Pro Days.
Pro Days are the key opportunities for teams to garner information about prospects, and the Alabama Pro Day is the most popular draft event outside of the Combine and the Draft itself. Nick Saban's program pumps out NFL-caliber talent at a rate never before seen and will probably never be matched even when his tenure is far in the rearview. Here's what you need to know about Alabama's Pro Day.
Alabama Pro Day Date
Alabama's Pro Day is scheduled for March 30, according to ESPN's Field Yates.
Of course, the most important information to know is who will be participating. There is not an official list of prospects who will be at the Pro Day quite yet, but below is a list of Alabama's top prospects who will likely show up and perform for the NFL teams in attendance. The two notable absences will be Jameson Williams, the superstar wideout who tore his ACL in the National Championship Game, and John Metchie, the other superstar wideout who tore his ACL in the SEC Championship Game.
Evan Neal, OL
Stats and accolades: 2021 Consensus All-American, made 39 starts over three years at left tackle, left guard, and right tackle. Can also do this.
Draft projection: Early first-round selection. Potentially the No. 1 overall pick.
Christian Harris, LB
Stats and accolades: 220 tackles, 10 sacks, and one interception over three seasons. Named to SEC All-Freshman team in 2019.
Draft projection: Anywhere from the late first-round to the second round.
Josh Jobe, CB
Stats and accolades: 129 tackles, two sacks, and three interceptions over four seasons.
Draft projection: Fourth-round selection.