Alabama Fan Gets Nailed by Security Guard After Running Onto Field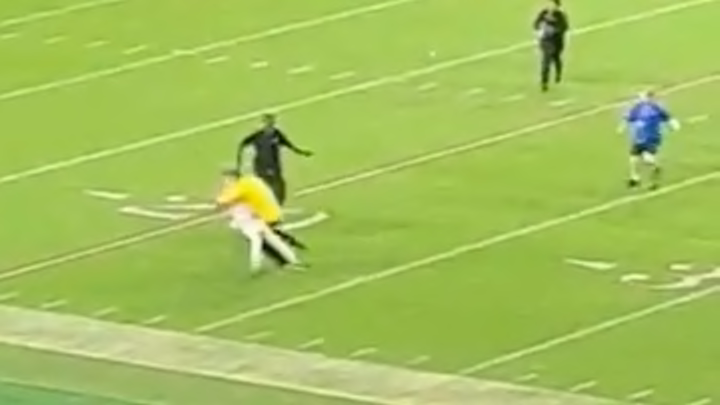 On Saturday, No. 11 Alabama battled back from a 13-point deficit to No. 17 Tennessee to defend their home field, winning 34-20. The Crimson Tide have not been nearly as dominant as we've been accustomed to but taking care of business against the Volunteers means a spot in the College Football Playoff is still very much in play.
Now that we've set the scene, here's what you came to see. The most violent tackle at Bryant-Denny Stadium yesterday did not take place during the game. Instead it came from a security guard doing his part to defend home turf. Seemingly hours after the game ended a rogue Alabama student somehow ended up on the field in an entirely empty stadium and was trotting around having a great time before he got leveled by the roving security guard.
Nick Saban is going to check in on that guy's college eligibility now, we know that much. What form! What contact!
Another video reports the fan was knocked out by the tackle, and you can see the closing speed from this angle. Impressive.
As always, a good reminder for us all that running onto the field is never worth it. Even if it's hours after the game ended.