Aidan Hutchinson's Mom Melissa Is Getting Lots of Camera Time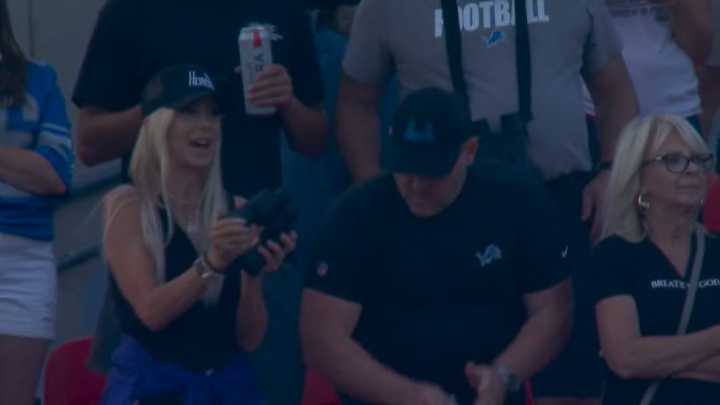 NBC decided to feature Aidan Hutchinson's family during Thursday Night Football. The Detroit Lions defensive end had his family mic'd up and cameras kept showing them in the stands. As those shots kept coming, it was clear NBC's cameras were focusing on Hutchinson's mom, Melissa, who happens to be a former Miss Michigan Teen USA.
Here's a shot of his parents:
They really kept the focus on Melissa:
Here is Hutchinson with his family:
And here's a shot of his sister Aria repping her brother's jersey:
Aria Hutchinson is 24 and was crowned Miss Michigan USA back in 2022. Unfortunately, she didn't win Miss USA, that honor went to R'Bonney Gabriel of Texas.
Aidan Hutchinson is a year younger than his big sister and the Lions made him the second pick of the 2022 NFL Draft. He was great as a rookie, racking up 9.5 sacks and made the PFWA All-Rookie Team. He's a big part of Detroit's future and he happens to be a local kid.
I'm sure we'll be seeing his mom and sister on a lot of future broadcasts.
I'll say, it's really weird that NBC decided to mic-up Hutchinson's parents. I get keeping a camera on them, but why do we need the microphones? It's basically his dad yelling "yeah!" a lot. I'm not sure this is something we need included moving forward.