Aidan Hutchinson Made an Insane One-Handed Interception on a Screen Pass From Bryce Young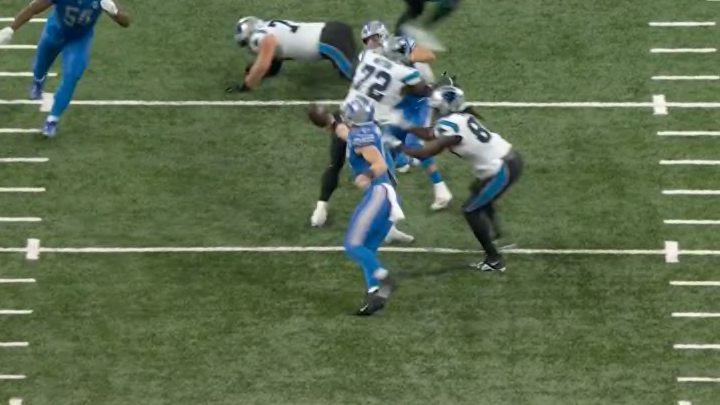 The Detroit Lions are all over the Carolina Panthers early in their Week 5 matchup at Ford Field. Up 7-0 in the first quarter the Panthers tried to run a screen pass for tight end Ian Thomas. At least that's kind of what it looked like. Who knows what was actually supposed to happen on this play because Aidan Hutcinson made a crazy one-handed interception on the play.
Thomas was blocking Hutchinson to start the play and as he let him go Bryce Young threw the ball in his general direction and Hutchinson just sort of stuck his hand out and grabbed the ball like it was being handed to him. You really need to watch multiple replays in slow motion before your brain can truly appreciate the play Hutchinson made here.
The Lions scored five plays later to take a 14-0 lead and the Lions look the part again. This time it's against a much worse Panthers team, but when you're doing stuff like this what else can you say? Hutchinson also started the game with a couple tackles and a pass defensed. Doesn't seem fair that a defensive end can do all this.