Adrian Wojnarowksi Hung Out at the Newark Airport All Night to Break the James Harden News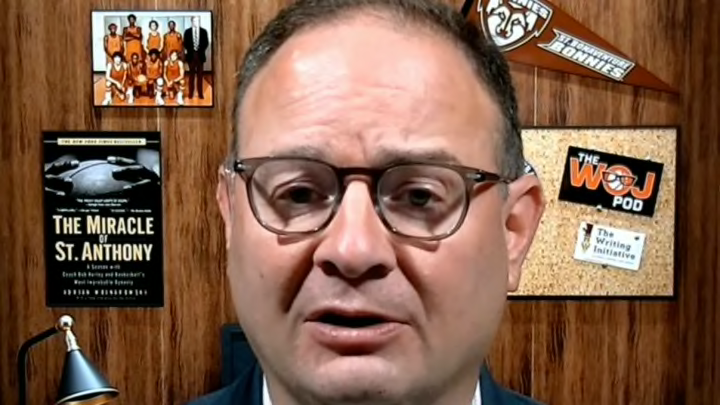 James Harden's Philadelphia saga mercifully came to an end early this morning when the 76ers agreed to send the frustrated superstar to the Los Angeles Clippers. ESPN's Adrian Wojnarowksi was the first to report the news, getting his tweet up at 2:01 a.m. ET.
League insiders have grown in power and purse in recent years and what they do is a source of fascination based on the glut of profile pieces where they explain their craft. But some people may be wondering how Woj ensures that he's going to be up during the wee hours of the night so he doesn't lose a potential bomb to his personal REM cycle.
Thankfully, he provided the blow-by-blow of how this report came together on his podcast (5:13-mark):
"Really got into it Monday night," he said. "I was at Newark Airport, I was getting ready to fly to L.A. to go out and be out with our NBA Countdown crew this week and NBA Today. It was suggested to me to not get on a plane, that you might be—it's always my worst fear with this job that you're on a plane and the wireless is spotty and you can't get to what you need to do—so I sat in Newark Airport, watched the place close down and then almost start to re-open again. So from like 5 p.m., they threw me out of the [United] lounge at 10:30 p.m. when it closed and then I just went and sat downstairs until I left about 3:30 in the morning."
That's dedication. And just a nightmare lifestyle if you really think about it. There are certain moments when the news pops and the television cameras are rolling that the whole enterprise looks glamorous but a sad New Jersey airport growing increasingly deserted is a bleak office for the day.
At least the copious aggregator accounts that shared it minutes later presumably have the comforts of home to enjoy while they wait for the action to begin. But hey, like Don Draper said, that's what the money is for.