Latest NBA Leads
Rich Paul and Adele Are Dating, As Reported by Brian Windhorst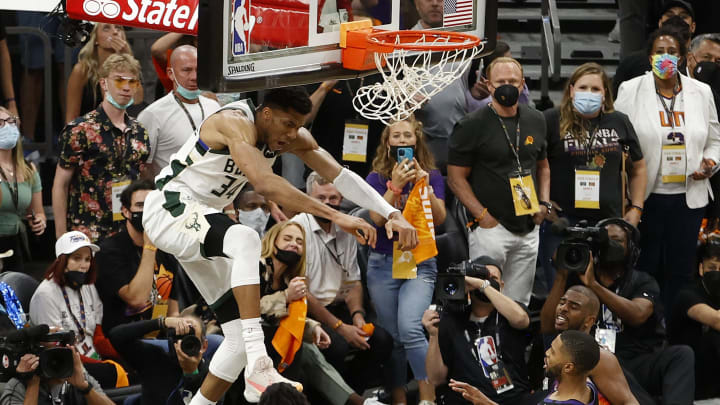 Giannis finishes the alley-oop as Adele watches / Christian Petersen/Getty Images
The NBA Finals is one of the marquee sports events on the calendar and every year celebrities of all levels of fame emerge from the woodwork to attend. Last night's Game 5 between the Milwaukee Bucks and Phoenix Suns was a perfect example of that. LeBron James and Vanessa Hudgens, two famous people on very different parts of the celebrity spectrum, were both in attendance.
As you probably have heard at this point, Adele was also there. The world-famous artist was an unexpected addition to the celebrity faces in the crowd. Not only did she watch a stellar game, she is in the background of one of the greatest Finals photos ever (as seen above). Christian Petersen of Getty Images captured Giannis Antetokounmpo mid-air after slamming home what ended up being the game-winning alley-oop with less than 20 seconds remaining in the contest. To the right of his knee, you can see Adele leaning forward in excitement.
The first question that comes to everyone's mind, though, is why a British-born singer is at an NBA Finals game in Phoenix, Arizona. Basketball is awesome and enjoyment is not limited to Americans or anything like that, but Adele would not be at the top of any list of possible celebrities who will drop the substantial dough to get a ticket and make the trip if we had to power-rank the likeliest participants beforehand.
Unexpectedly, we learned why Adele was there from the one and only Brian Windhorst. Appearing on Zach Lowe's podcast for an immediate post-game reaction, Windhorst turned into a celebrity gossip reporter and informed the masses that Rich Paul, super-agent extraordinaire, is dating Adele.
Can't say I thought this would be a news story after Game 5, but here we are.