Awesome WNBA Finals Game 4 Included Sabrina Ionescu Puking Into a Trash Can Between Clutch Shots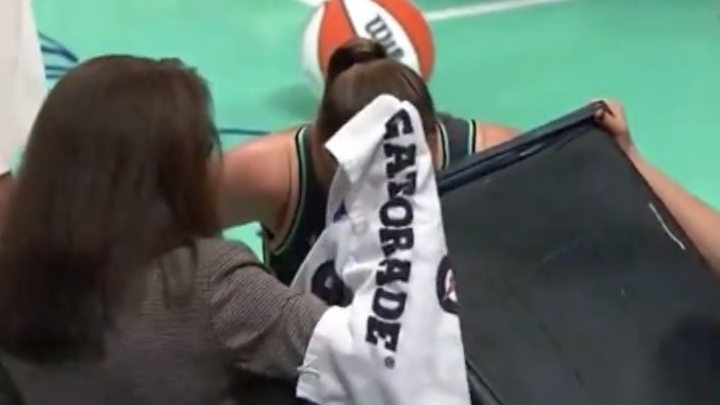 Game 4 of the WNBA Finals was an absolute barn-burner in Brooklyn as the Las Vegas Aces were able to secure their second straight crown by outlasting the New York Liberty, 70-69. A'Ja Wilson was incredible, scoring 24 points and grabbing 16 rebounds in a back-and-forth affair that had all the drama and all the subplots.
Including the Liberty's Sabrina Ionescu hitting a clutch three-pointer in the fourth quarter, puking courtside into a trash can, and getting right back out there.
Yep. That's a person losing the contents of their stomach. The contents used to be in her stomach and now are no longer there. They are in a trash can.
You talk about a team and it's more than just the players on the court. Someone needs to be there with a receptacle so there's not a giant mess in the biggest game of the year and they just do their job under the brightest lights.
Ionescu, for her part, was clutch in collecting 13 points and hitting much-have shots down the stretch but it simply wasn't enough. Can't say she didn't leave it all out there, though.