Aaron Boone Mad, But Not Mad Enough to Unleash Robocop on Major League Baseball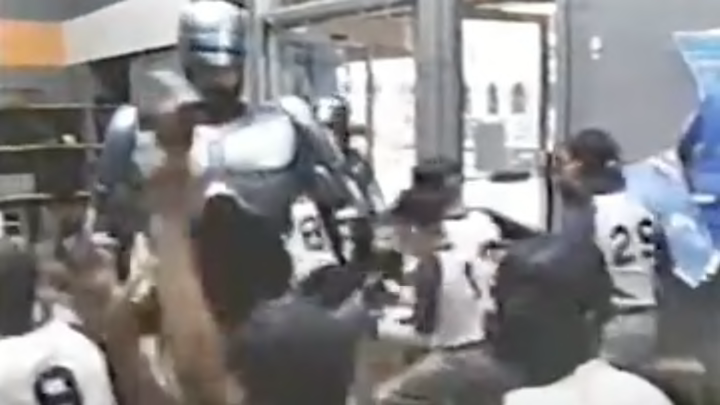 Aaron Boone earned his fourth ejection of the relatively new season last night during the New York Yankees' 3-1 loss to the Baltimore Orioles. He was understandably frustrated with home plate umpire Edwin Moscoso's strike zone, which appeared to squeeze Clarke Schmidt with some regularity.
A graphic posted by the Yankees' YES Network indicated at least six of Schmidt's pitches that caught the edge of the strike zone were called balls.
Pretty standard stuff. Except for the postgame media session, where Boone was asked if he thought it was time for "the Robocop."
Despite his rage, the Yankees skipper conceded that no, it is not entirely necessary at this point to bring Paul Verhoeven's futuristic Detroit into the Bronx and across all of Major League Baseball.
Now, obviously the reporter was referring to the Automated Ball-Strike System being tested in Triple-A. Which will eventually become the standard in the bigs and render the entire art of pitch-framing useless. So it's not an entirely unreasonable question.
"Clearly he shouldn't have had to throw almost 30 pitches in that first inning," Boone said. "But, no, I'm not advocating for the robo. I think these guys do for the most part a great job and work really hard at it. When you're playing for a lot, there's going to be some issues from time to time, as simple as that."
One thing to consider here is that robot umps will be bad for those who cover the sport. There's an entire angle that just goes away. And sometimes a pissy batter or pitcher is the most interesting thing to happen in a game. Another reason to be careful what you wish for.