A Case for Holding the Super Bowl Earlier in the Day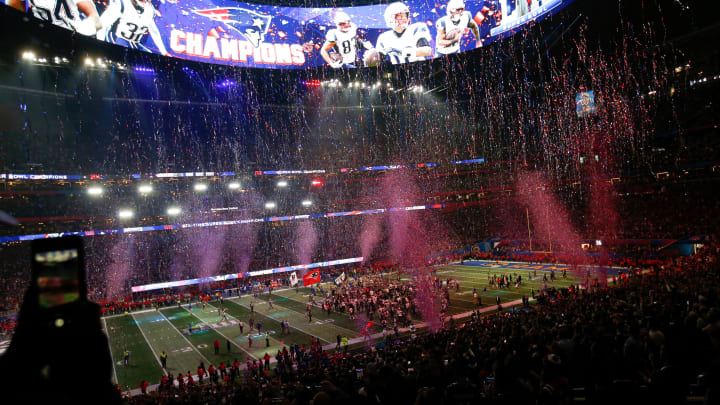 Mercedes Benz Field in Atlanta at Super Bowl LIII / Michael Zagaris/Getty Images
New York teenager Frankie Ruggieri made headlines when he wrote a petition to the NFL to move the Super Bowl to Saturday. According to Ruggieri, moving the Super Bowl one day ahead would be more practical for football fans. As he found while looking for statistics to back up his case, 17 million adults actively planned on skipping work the day after last year's Super Bowl.
While the petition has already gotten over 20,000 signatures, don't expect change to happen quickly. For reasons both traditional and practical, the idea of holding a Super Bowl on a day other than Sunday would be viewed by die-hards as abhorrent. Shifting it to a Saturday would potentially throw off coaches' pre-game preparation and planning and leave players raw with one less day of rest - as critics of Thursday Night Football know all too well. Granted, the players do have the extra week off, but they also have to account for the travel to the Super Bowl site as well as the constant media spotlight of appearing in the biggest game of the year. They need all the rest they can get.
But let's be honest. The kid has a point. We're all pretty much wrecked the Monday after a Super Bowl. For most people, all anyone talks or thinks about at school or work that day is either, "Hey, did you see that touchdown?" or, "Did you see that commercial with that guy doing that thing?" Assuming you don't call in sick. And it's even more apparent when that year's Super Bowl involves a local team or a team that you personally have a rooting interest in.
Of course, the Super Bowl is much more than a game - it's America's biggest commercial break. A 30-second ad spot for this year's event on FOX cost $5.6 million, and the network also hopes to use the big game as a springboard for the rest of their schedule, with the unexpected hit The Masked Singer airing a new episode after the game.
On top of that, the Super Bowl is virtually guaranteed to run longer than your typical NFL game due to the halftime show and extended theatrics. So if moving the game from Sunday is out of the question, why not move the game to earlier in the day?
This year's game is scheduled for a 6:30 PM EST kickoff, but let's say we move it back to 4:00 PM, when the NFL's late-afternoon Sunday games typically start. Taking into account the typical three-hour length of a football game, the halftime show will kick in around 5:30 - just in time for dinner - and the game should end around 7:30. This should leave just enough time for a quick post-game wrap-up before a regularly scheduled program at 8:00.
It will also put the network broadcasting the game in a much better position, as they won't face the possibility of an overrun and will be able to show the lead-out program at a reasonable hour.
It may sound like a radical idea at first, since we're all used to championship events generally taking place at night. But if millions of American fans can gather to watch the Women's World Cup games live from France in the morning hours, they can surely watch the Super Bowl in an earlier afternoon hour.