Baby Placed in Stanley Cup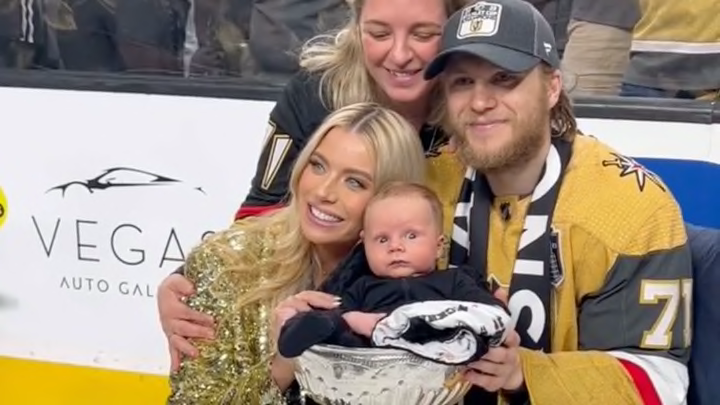 The Las Vegas Golden Knights were thoroughly dominant during the Stanley Cup Playoff and completed a five-game thrashing of the Florida Panthers last night to win it all in just their sixth year of competition. Lord Stanley's shiny but not that practical and the cup was wheeled out onto the ice after the triumph so players who had never touched it could get their grubby paws on it. And do whatever they want with it, really.
Las Vegas center Wiliam Karlsson and his wife capitalized on the opportunity by putting their one-month-old baby, Beckham, inside the trophy.
And the kid loved it. We think. Even the savviest body-language experts can have difficulty getting a good read on a baby who does not yet know how to smile.
What a night for the Karlssons. First dad realizes an impossible dream and ensures several weeks of partying and revelry. Then they get a great holiday card without having to vet and pay a photographer. Your classic win-win.
Little Beckham is still a tiny little guy but this makes us wonder about the largest son or daughter that could be folded into the protective cradle of the Cup. If there's any justice in this world we will see a 5-year-old Braxxton jammed in there at some point.