5 Sleepers to Bet on to Win Super Bowl 53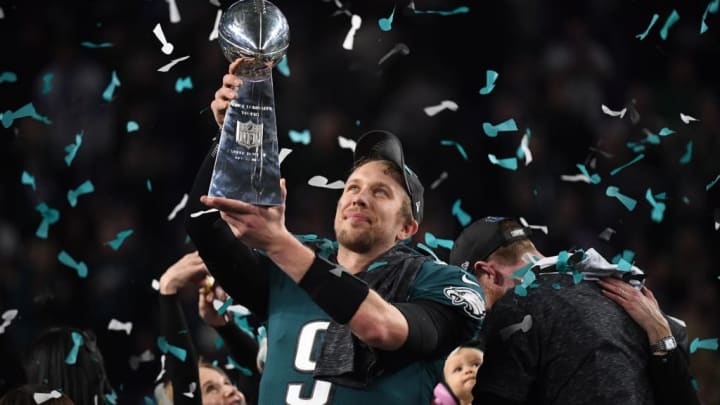 With Super Bowl LII in the books, it's time to start looking ahead to next season if you are a gambler.  Oddsmakers have already released the 2019 Super Bowl odds for all 32 teams, so why not?
After digging deep and doing some research, here are 5 sleeper teams (20-1 or more) I think can have an Eagles-like run next year:
Los Angeles Rams 20-1
It is amazing to see just how much of a difference a good coach can make in the NFL.  Last year the Rams were 4-12 last year, and their quarterback Jared Goff struggled.  After that disastrous season, the Rams hired McVay but mostly brought back a lot of the same pieces from that 4-12 team. In Sean McVay's first season, the Rams ended up going 11-5 and made it to the playoffs.  More importantly, Jared Goff flourished, which shows you just how great of a job McVay did in his first season as the Rams head coach.
The Rams made the playoffs this year, have one of the best running backs in Todd Gurley, one of the best defensive players in Aaron Donald, and have the NFL Coach of the Year in McVay.  At 20-1 for next season, the price is definitely right for this Rams team that can take the next step.
Houston Texans 20-1
".@deshaunwatson's first day back running ? pic.twitter.com/1kN4gblqto"

- — Sports Illustrated (@SInow)
Before Deshaun Watson's injury, the Texans definitely looked like one of the best teams in the NFL.  They had just taken the Patriots to the limit, and everyone was taking notice.  Unfortunately Watson ended up injuring his knee in practice, derailing the Texans' potentially great season.  Now as you can see from the video above, Watson is already back and running, which is a great sign.  And from everything that I am hearing, Watson looks like he will be back and better than ever by the start of the season.
With Watson and DeAndre Hopkins on offense, and the Texans always strong defense, I can see the Texans making a run at the playoffs next year if J.J. Watt can stay healthy for a year to pair with Jadeveon Clowney.  At 20-1 odds, this is another a team we should all be looking at to make some noise.
Kansas City Chiefs 25-1
I know the Chiefs just traded Alex Smith, but they were planning to move onto Patrick Mahomes as their starter anyways.  The fact that the Chiefs were able to get back a third round pick and Kendall Fuller for Alex Smith was better than even Andy Reid could've imagined for when he was thinking about this quarterback change.  The Chiefs still have Kareem Hunt, Travis Kelce, and Tyreek Hill, and they just bolstered their defense with the addition of Kendall Fuller.  Say what you want about Andy Reid's game management skills, but he is still one of the brightest offensive minds in the NFL.  Case in point, Doug Pederson comes from the Andy Reid coaching tree, and you saw what he did with the Eagles this year.
I think Reid will easily be able to plug Mahomes into this offense, and tailor it perfectly to his skill set.  I'll definitely grab 25-1 on a team that was favored to make a deep run in this season's playoffs, bringing back a lot of its key pieces.  And if you want to read more about how Mahomes' supporting cast is too good for him to fail, read this piece by my guy Henry McKenna.
San Francisco 49ers 30-1
I'm all aboard the Jimmy Garoppolo bandwagon. Sometimes when you watch a quarterback play, you know he has that "it" factor. That is how I felt every single time I saw Garoppolo play this past season.  Jimmy G has the physical tools, already has the swagger, and I love that he has learned from the two G.O.A.T.'s in Tom Brady and Bill Belichick.  I am also a big fan of the Niners head coach Kyle Shanahan, who I think has one of the best offensive minds in the game.  And in case you didn't notice, the Falcons offense looked considerably worse this year without Shanahan.
Jimmy G, Coach Shanahan, and over ~ $115 million dollars in cap space to fill the team's holes are all reasons to get excited about the 49ers next season.  And if John Lynch can have another solid draft, I see a big year coming up for the 49ers.
Carolina Panthers 30-1
We are getting 30-1 odds next year on a team that just went 11-5 and made the playoffs.  This is the same Panthers team that beat the Packers with Rodgers, the Patriots at Foxborough, and the Vikings this past season.  The Panthers also played the Eagles tough, and barely lost to the Saints in their playoff game at New Orleans.
The Panthers will bring back Cam Newton, Luke Kuechly, and keep continuity and their identity with coach Ron Rivera.  I also loved how they used Christian McCaffrey in the offense this past season. This team is a lot closer than people think; this is going to be a team to look out for.
Deep Sleepers
A couple of teams to keep an eye on this offseason are the Denver Broncos and the Indianapolis Colts.  The Colts are currently at 40-1 and the Broncos are at 50-1 for next season. If the Broncos can make a move for Kirk Cousins, they are definitely built to compete now with that defense.  The Colts future on the other hand, rests squarely on Andrew Luck's shoulder.  With the addition of McDaniels, if Luck can come back healthy, that would be a team that can make a run as well.
Special shout out to everyone that had a Philadelphia Eagles futures ticket last night.  Now it is time for us to find our sleeper for next year!