San Francisco 49ers Projected Quarterback Depth Chart Without Jimmy Garoppolo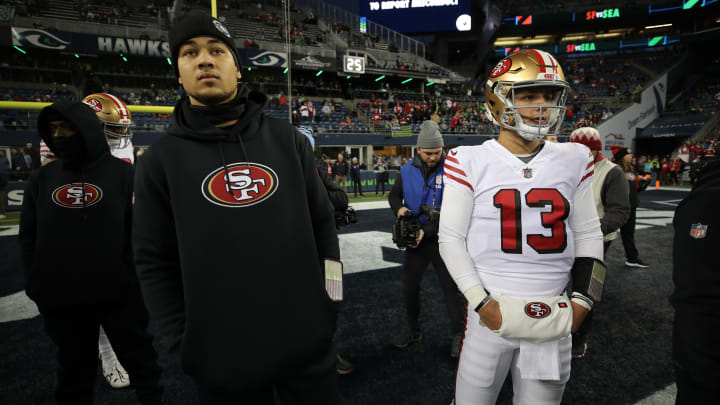 San Francisco 49ers v Seattle Seahawks / Michael Zagaris/GettyImages
The Jimmy Garoppolo Era is over in San Francisco, as the 49ers and the 31-year-old quarterback have parted ways. Garoppolo is set to sign a three-year, $72.75 million deal with the Las Vegas Raiders. Now the Niners must look to the future and figure out who leads the team moving forward. There are two young options already on the roster, and they added Sam Darnold at the start of free agency on Monday.
Here's a look at the 49ers depth chart with Garoppolo out the door.
1. Brock Purdy
Purdy went from Mr. Irrelevant to carrying the 49ers to the playoffs in just a few months. The 23-year-old played in nine games, completing 67.1 percent of his passes for 1,374 yards, with 13 touchdowns and four interceptions. His passer rating (107.3) and QBR (65.6) were both excellent as well and he won his first seven starts. He looked good in the team's first two postseason games before injuring his right elbow in the NFC Championship Game.
Purdy underwent surgery to repair the ulnar collateral ligament in his right elbow but avoided Tommy John surgery. He should resume throwing in three months and should be ready to start the season. If that's the case, he needs to be the first choice under-center. He's actually won in the NFL and took the team to the playoffs. No one else on San Francisco's roster can claim that.
2. Trey Lance
Before the 2021 NFL Draft, the 49ers sent the 12th overall pick, plus first-and third-rounders in 2022 and a first-rounder in 2023 for the right to move up to No. 3. With that pick they drafted Lance. So the organization has sunk a lot into him. Unfortunately, he has only seen action in eight games and broke his ankle in Week 2 this season.
In the action he has seen in his first two seasons, Lance has completed 56 of 102 passes for 797 yards, with five touchdowns and three interceptions. His passer rating of 84.5 isn't inspiring. He has also rushed 54 times for 235 yards and a touchdown. While the 49ers have poured a ton of resources in to Lance, I'm not sure they can justify starting him over Purdy at this point. Lance feels like a backup unless something dramatic takes place.
3. Sam Darnold
I'm not sure I need to explain why Darnold is down here, but it's pretty clear he was brought in as a deep backup option. Maybe he's there as insurance depth if Lance or Purdy isn't ready to start the season. It's also possible that things come to a head and general manager John Lynch needs to eventually trade one of his young quarterbacks to fully turn things over to one of them. As long as both are on the roster, a quarterback controversy is sure to be one snap away.
Darnold obviously hasn't lived up to the hype since the New York Jets drafted him with the third pick back in 2018. He's somehow still only 25 years old and showed some flashes with the Carolina Panthers in 2022. He saw action in six games and completed 58.6 percent of his passes for 1,143 yards, averaged 8.2 yards per attempt and had seven touchdowns against three interceptions. His passer rating (92.6) and QBR (48.5) were both career-highs. None of those numbers are great and no one should expect him to challenge for a starting spot, but after what happened at the end of the 2021 season you can bet the Niners are happy to have some extra depth.