49ers Cost Themselves Fumble Return Touchdown in Strangest Way Possible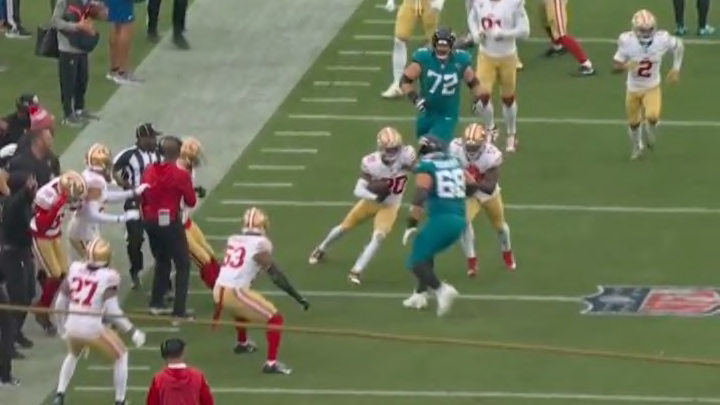 San Francisco 49ers /
The San Francisco 49ers took it to the Jacksonville Jaguars on Sunday. They defended their home turf by getting consistent pressure on Trevor Lawrence and their playmakers shone offensively. One of the biggest plays of the game came late in the third quarter from a relatively unknown player, though.
The Jags had the ball in the Niners' end thanks to a long Lawrence completion and were trying to score their first touchdown of the day. Lawrence found Christian Kirk near the sideline, who tried to make something happen and fumbled as a result. Defensive back Ambry Thomas forced the turnover and recovered the ball. Everybody, including the Fox Sports cameraman, assumed Thomas was down once he made the recovery, but he ended up sprinting all the way to the other end zone. The officials ruled it a touchdown because it turns out Thomas had never been touched.
A real heads-up play from Thomas and a big goof by Jacksonville several times over. However! The Jags were saved from this lowlight because the play was called back due to an unsportsmanlike conduct penalty. The broadcast booth was very confused by the call, since unsportsmanlike conduct penalties almost always happen after the whistle and wouldn't negate a return TD. It took a while for everybody to figure out what happened, but they finally did and broke it down for the viewers as the Niners lined up back at the spot of the recovery to begin their drive.
It turns out San Fran robbed themselves of a touchdown because half the sideline, both players and coaches, leapt onto the field in joy while Thomas was returning the fumble because they also thought he was down. Leading to the amusing image you see above of Thomas trying to take it to the house while his own teammates and coaching staff are blocking him.
The fact that there are coaches out there means nobody is getting cut for being undisciplined or whatever. The blame falls on everybody. And now it'll be standard practice that nobody gets to freak out after a turnover until the whistles have been clearly heard.
What a ridiculous way to lose a touchdown. It ultimately didn't change much as San Francisco marched down the field and scored again shortly thereafter. But a real weird situation that you may never see again.