One Guy Clearly Lost This 49ers Fans Preseason Brawl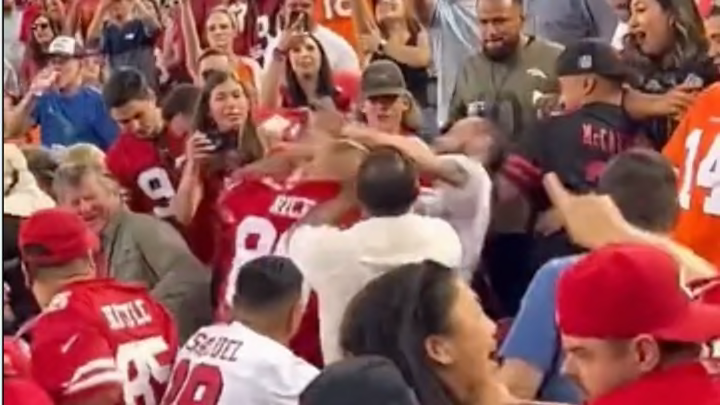 The San Francisco 49ers beat the Denver Broncos, 21-20, in a preseason game at Levi's Stadium. Fans of the home team saw a pretty good collective showing from their quarterbacks as Brock Purdy, Sam Darnold and Trey Lance combined to complete 27 of 37 pass attempts for 323 yards and two touchdowns. With three healthy signal callers now on a roster that made the NFC Championship back in January, you can see why fans were so fired up they couldn't help but have a brawl among themselves during a preseason game.
This was just a mass of humanity, but it's clear that only one person truly lost here, and that's the guy with the bloody mouth who needed security's help walking up the stairs. If you watch closely, he appears to be the first victim of a Steve Young / Jerry Rice combo in 24 years.
The Niners have one more preseason game this week and then they don't see their team in person until Thursday, September 21st when they play the New York Giants at home on Amazon Prime. The fans have better have their acts together by then because Al Michaels doesn't have time for this kind of nonsense.