30+ Classic Rock Songs I Never Want to Hear Again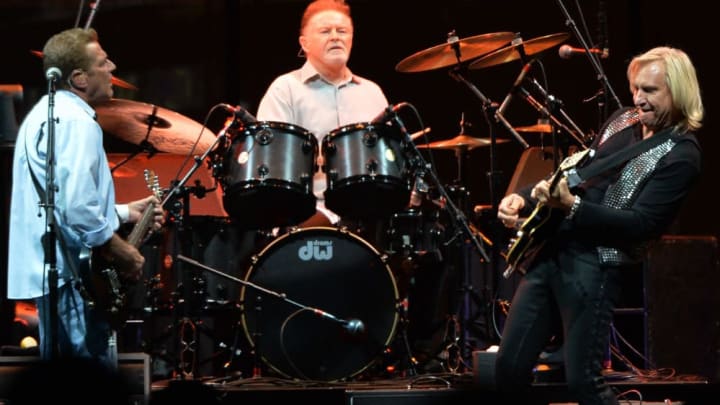 The "Classic Rock" genre is the most tired in all of music. Often the only purpose it serves is to prove you're getting older and that you no longer drive the cool car you used to drive when you were in high school, or something. Part of me dies inside when I hear a Nirvana tune — and I don't even really like Nirvana's music all that much — sandwiched between Foreigner and Steve Miller Band on the local classic rock station.
However there is something to be said of some classic rock tunes. Once the weather gets warm (77 degrees seems to be the key point on the mercury) and your outside sipping on a canned lite beer, it's okay. Look, it's not great, but it's passable. Tolerable, even. You might even air guitar or air drum … or air bass a little bit … or break out your best falsetto if you can look past all the $150 concert tickets and 65-year-olds still making weird guitar sex faces during songs written five decades ago.
Once this hazy summer nostalgia trip ends, you come to your senses and realize the majority of the genre is tired, played-out crap. The following is but a sample of some of the songs that could be stricken from the airwaves and we'd all be better off for it.
Rule of thumb: if a song can be used as the soundtrack to a Brett Favre relaxed fit jeans commercial or as a mindless sports arena anthem, it probably can find its way onto this list.
***
"Hotel California" … The Eagles — Admittedly a rote pick to start off a shitty Internet list such as this, but ask yourself under any circumstance do you need/want to listen to Hotel California ever again? Put the pink champagne on ice for good. The Dude is right about The Eagles, man.
"Don't Stop" … Fleetwood Mac — If you talk to someone my parent's age about the Rumours LP they will gush as if it's among the most seminal moments in music history. Truth be told, it's a great album … but this song has reached its peak saturation after 3,000,000,000,000 spins across the dial. Yesterday's well and gone by now.
"Sweet Home Alabama" … Lynyrd Skynyrd — Existential question: how many times do you think your local rock radio station has played this song in its existence? For me that's WPLR and honestly my brain cannot count to a number that high. Conservatively "Sweet Home Alabama" is probably played at least 3-4 times per day range, seven days a week for the last 20 years. That math yields around 29,120 plays since 1995 which seems low. Like most of the songs on this list you can see why it attained popularity in the first place but decades upon decades of repeat plays diminish their value.
Anything by The Doors — As a kid who liked the Oliver Stone movie about the iconic 60s band in middle school — and its subsequent parody in Wayne's World 2 — enough to buy the band's greatest hits double CD (which didn't fit in any standard CD rack holders) the modern-day Internet's distaste for Jim Morrison puzzled me at first. Then I heard "Roadhouse Blues" again recently and realized The Doors kind of don't too anything for me anymore. Sorry, not sorry, if you hung a Morrison poster in your college dorm room.
"Have a Cigar" and "Welcome to the Machine" … Pink Floyd — Overplayed and droning — and I've seen Roger Waters in concert multiple times. Why can't better Pink Floyd deep cuts like "Fearless" or "The Nile Song" get into rotation over these two dirges?
"Paranoid" … Black Sabbath — There are better, popular tunes in the Sabbath catalog (N.I.B. jumps immediately to mind) to replace this one in rotation. At least it's a quick one.
"Listen to the Music" … The Doobie Brothers — Needs more Michael McDonald.
"Rock 'N Me" … Steve Miller Band — Selling out is understandable — I'd do it if offered the opportunity — but once a song is primarily associated with 90 percent of the products one can purchase at Wal Mart it's time to go. Apologies to all the Space Cowboys out there, but reckon everyone on planet Earth could survive without ever hearing another Steve Miller Band song, up to and including Steve Miller himself. Fun fact: air guitaring along with a Steve Miller Band song in a public setting will show you who your real friends are.
"Piano Man" … Billy Joel — There are dozens and dozens of quality Joel songs and double as radio hits. This one we've all heard 100s of times. When I'm waiting in line to get my tires rotated at 11:31 a.m. on a Wednesday the last thing on my mind is singing along to the chorus about tonic and gin.
"Black Dog" … Led Zeppelin — Let's be fair, this Robert Plant wail/Jimmy Page guitar riff is the foundation on which the entire Classic Rock genre was built. Once you've heard a thousand or so times it loses its meaning. If only stuff from Led Zeppellin III could get more time in rotation — "Out on the Tiles" rocks! — rather than the same dozen or so tracks from the band programmers have leaned on for the last four decades.
"Southern Cross" … Crosby, Stills and Nash — When you see the Southern Cross for the first time I'm sure it's breathtaking. Then again I don't own a sailboat or a wardrobe full of fat-guy Hawaiian shirts like Stephen Stills presumably does.
"Cocaine" … Eric Clapton — All these years I've never been able to pin down what Clapton was getting at here. Talk about obtuse lyrics.
"Glory Days" … Bruce Springsteen — "He could throw that ol' speedball by you, make you look like a fool boy" … no Bruce, no.
"Stuck in the Middle with You" … Stealers Wheel — "Clowns to the left of me, joker's to the right, here I am" stuck forever with this song. Maybe this is being a contrarian for contrarian's sake but Michael Madsen's Mr. Yellow ear-slicing routine from Reservoir Dogs isn't quite as edgy or fresh as it was in 1992. This song got popular rotation again because of it. The numerous handclaps are pretty catchy.
"All Along the Watchtower" … any version — There must be some way out of hear…ing this song covered by every jam band and classic rocker on the planet. I'm sure there are still some killer live covers floating around on KaZaA.
Aerosmith, pretty much any song — I don't think you can muster enough irony to enjoy a piece of dung like "Love in an Elevator." For every decent Aerosmith song like "Dream On" there are about 3-4 rotten ones.
"Refugee" … Tom Petty & The Heartbreakers — Not that this is a bad song, I'm just tired of it and this is my list.
"Brown Eyed Girl" … Van Morrison — I'll hand it to Van Morrison, he's carved out a lengthy, popular career with one of the least-dynamic stage presences for a front man known to mankind.
"Locomotive Breath" … Jethro Tull — N-O-P-E.
"Old Man" … Neil Young — Neil Young is now 69. Maybe he needs to do an update. This song is a drag.
"Rock and Roll All Nite" … Kiss — An abstract: why do so many songs within the Rock 'N Roll genre spend so much time talking about how great rock music is or how it will last forever? You wouldn't hear a song — "I want to Adult Contemporary all night and party every day" or "Long Live Jazz."
"Ramblin' Man" … The Allman Bros. — Sorry dad, but the Allmans don't do it for me.
"Baby Hold on to Me" … Eddie Money — Makes me think of Geico, even though it's not "Two Tickets to Paradise." Lame guitar riff, too.
"Rocky Mountain Way" … Joe Walsh — Decent enough guitar riff, but this song is almost five minute long.
"Welcome to the Jungle" … Guns 'N Roses — If you're of a certain age (ie mine) you'll remember where you were the first time you saw the November Rain video on MTV. This might have been a more significant moment in the 20th century than the moon landing, which makes it weird to think they're not "classic rock" but then again we're all going to get old and die and it really doesn't matter how you classify Appetite for Destruction since it'll be here long after we're all dead and gone. Long story short, "Welcome to the Jungle" is right up there with the most-overplayed songs of any genre when you factor in sporting arenas. Does anyone think the visiting team hears this song come over the PA and starts to quiver in fear? Time to move on, or estrange ourselves from this tune as it were.
"American Woman" … The Guess Who — Let me say this, "These Eyes" is a great fucking song. By the time Lenny Kravitz got to covering "American Woman" it had been played out for at least a full decade, if not more.
"Taking Care of Business"/"You Ain't Seen Nothing Yet" … Bachman Turner Overdrive — Again, if your songs are primarily associated with big box retailers or Chris Berman highlight puns circa 1989, it never needs to be on the radio again. Thus concludes the Randy Bachman section of our list.
"Start Me Up" … The Rolling Stones — Another song that only that only belongs to be played in the rubble of demolished sports venues from the 80s or 90s.
"We're An American Band"… Grand Funk Railroad — As Homer Simpson reminded us 20 years ago, bong-rattling bass of Mark Schoener hasn't aged well.
"Centerfold" … J. Geils Band. — In the early 80s people didn't call stuff like this "creepy" … instead it got a very popular video on MTV. Fun fact: J. Geils is the guitar player in the band, not the singer. That's Peter Wolf.
"Band on the Run" … Wings — Ugh.
"We Will Rock You" … Queen — Might challenge "Welcome to the Jungle" in terms of sports arena usage. Ask yourself, have you ever actually willfully listened to this song of you own volition?
"Bad Company" … Bad Company — Even the rare trifecta of same song name, band name and album name doesn't make this one any less stale.
"Blinded By the Light" … Manfred Mann — Revved up like a deuce/wrapped up like a douche … who cares? You could go the rest of your life without this Bruce cover and be quite all right.
There are countless others that warrant a place on this list, right? Feels like we've only scratched the surface. Maybe we'll do this again next summer.
And in parting, a pallet cleanser.