2016 NFL Mock Draft 6.0 - the Final Countdown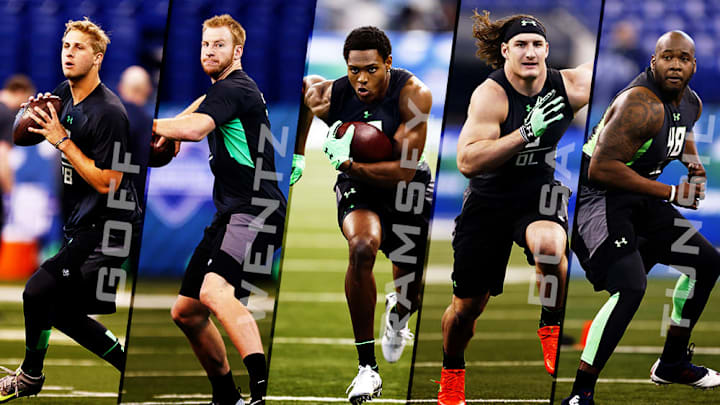 Remember Mock Draft 1.0, right after the 2015 Draft? Then came Mock Draft 2.0 in October 2015. Mock Draft 3.0 was in January 2016, after players declared for the draft. Mock Draft 4.0 came before the Combine and Free Agency. Mock Draft 5.0 was in early April, before the Rams trade. 
1. Los Angeles Rams – Jared Goff, QB, Cal. I like Goff, but not so much that I would have made this trade.
2. Philadelphia Eagles (via Cleveland) – Carson Wentz, QB, North Dakota State. I definitely would not have done this.
3. San Diego Chargers – Jalen Ramsey, DB, Florida State. After eight seasons, the two-time 1st team All Pro Eric Weddle left for Baltimore. Ramsey makes total sense, not just filling a need, but after drafting Jason Verrett two years ago in the 1st round, they now have two cornerstones in the secondary.
4. Dallas Cowboys – Joey Bosa, Ohio State, DE. Two defensive ends from last year are suspended (Lawrence, Gregory). Another is gone (Hardy). Bosa makes the most sense. Also, he might be the best defensive player in the draft.
5. Jacksonville Jaguars – Laremy Tunsil, OT, Ole Miss. Appears to be good enough that you can move Luke Joeckel to RT (Jermey Parnell to a backup role?) and hope he can hit the reset button on a rough start to his career. The Jags offensive line led the NFL in penalties. New RB Chris Ivory will approve.
6. Baltimore Ravens – Ronnie Stanley, OT, Notre Dame. Hurst was a disaster, Osemele left for the Raiders and your option at LT is Eugene Monroe, who signed a 5-year deal in 2014 and was hurt a lot last year. If he's healthy, let Monroe try and beat out RT Ricky Wagner, who was better in 2014 than he was in 2015. How can Ozzie Newsome salvage this pick if he doesn't get Tunsil or Stanley?
7. San Francisco 49ers – Myles Jack, LB, UCLA. Feels like this pick could send the draft in many different directions. The 49ers have gone defense in the 1st round three years in a row. They love Treadwell/Coleman, but not this early. Fun with draft rumors: Which team put out the Jack knee concerns hoping teams early would pass on him?
8. Cleveland Browns (via Philadelphia) – DeForest Buckner, DE, Oregon. A Top 5 pick based on talent, Buckner falls only because two teams were dumb enough to trade up for a QB, and the 49ers just took an Oregon guy last year AND just grabbed a former Oregon coach (Chip Kelly).
9. Tampa Bay Bucs – Sheldon Rankins, DT, Louisville. Had him here last time and have since seen it a lot of places. Rankins has some Aaron Donald in him. Every single mock draft for most of the last few weeks seems to have him going to New Orleans.
10. NY Giants – Ezekiel Elliott, RB, Ohio State. No change. Still hate this pick, but only because I'm a Jets fan.
11. Chicago Bears – Leonard Floyd, OLB, Georgia. Not a primary need, with good pass rushers in McPhee and Houston. Had Floyd inching up since February, from the Jets at 20, to the Colts at 18, and now a big leap. Some are comparing Floyd to a young Jamie Collins, the Patriots' playmaker.
12. New Orleans Saints – Vernon Hargreaves, CB, Florida. A little lower than most mock drafts have him. Plug and play corner. The Saints have major needs on defense, and I wouldn't rule out Myles Jack if he's still on the board.
13. Miami Dolphins (via Philadelphia) – Eli Apple, CB, Ohio State. No change.
14. Oakland Raiders – William Jackson, CB, Houston. No change.
15. Tennessee Titans – Jack Conklin, LT, Michigan State. Wrote up a 7-round mock draft after the trade; it didn't account for anothertrade, but that may happen here. I don't believe Conklin to be that inferior to Stanley/Tunsil, and hopefully the Titans board agrees with me so I come out looking good.
16. Detroit Lions – Darron Lee, LB, Ohio State. Having lost DTs in FA the last two years, how about adding a heat seeking missile to the LB corps? Some scouts believe Lee is an ideal fit in a 3-4; go ahead and explain why he can't play in the middle of a 4-3.
17. Atlanta Falcons – Shaq Lawson, DE, Clemson. Slides down a bit. Fully admit I haven't had a good read on him. I seem to like him a lot better than people I talk to. Also, it's fun to think about the Clemson connection of Beasley and Lawson on the attack.
18. Indianapolis Colts – Taylor Decker, OT, Ohio State. Offensive line is a primary need, but the defense needs a major overhaul, too. Big drop-off in OT after Decker, hence that being the pick here.
19. Buffalo Bills – Jarran Reed, DT, Alabama. I'm flip-flopping between Alabama defensive linemen for Rex Ryan. Had A'Shawn Robinson here last time.
20. NY Jets – Emmanuel Ogbah, DE, Oklahoma State. Feels like a trade could be coming, though I hope it's not for a QB. Please no. It's not just needed. Lynch here is not as good of a pick as Hackenberg in the 2nd or Cardale Jones in the 3rd. Ogbah is the greatest pass rush athlete in the draft.
21. Washington Redskins – Reggie Ragland, LB, Alabama. Would be a gift if he ended up falling this far. Imagine this haul in the span of five days – the best cornerback in the NFL and a Day 1 thumper at LB. Lock up the NFC East?
22. Houston Texans – Laquan Treadwell, WR, Ole Miss. No change. Feels like a WR, pick one of Treadwell, Fuller, Coleman out of a hat?
23. Minnesota Vikings – Will Fuller, WR, Notre Dame. No change. See 22.
24. Cincinnati Bengals – Corey Coleman, WR, Baylor. No change. See 22 and 23.
25. Pittsburgh Steelers – Mackensie Alexander, CB, Clemson. Much lower than I had him in the last mock draft, which means I either got bad information last time or this time.
26. Seattle Seahawks – Chris Jones, DT, Mississippi St. Plenty of chatter about Nkemdiche going here. I'm ok with missing on the philosopher/defensive lineman.
27. Green Bay Packers – A'Shawn Robinson, DT, Alabama. Still feels like a space eater inside for Mike McCarthy.
28. KC Chiefs – Josh Doctson, WR, TCU. Could start him opposite Jeremy Maclin and Alex Smith would be thrilled. This is production: 144 catches, 2,345 yards and 25 TDs in the last two seasons. Yes, I know the Big 12 is Arena Football.
29. Arizona Cardinals – Paxton Lynch, QB, Memphis. Two years ago, the Cardinals limped to the playoffs without Carson Palmer. Lost. Last year, a healthy Palmer got them to the NFC title game. He turns 37 in December. The Cardinals have the best roster in the NFL. Why not draft his replacement? Cleveland would not love this; they want Lynch at the top of the 2nd round.
30. Carolina Panthers – Kevin Dodd, DE, Clemson. Feels like a defensive lineman/pass rusher, but given the Josh Normandeparture, which is enormous, is there a need for a CB here? How good did Norman make two average safeties look?
31. Denver Broncos – Andrew Billings, DT, Baylor. Lost Malik Jackson in free agency, and in a mild surprise, I'm finally off the Connor Cook-to-Denver bandwagon. With this pick, at least.
32. New England Patriots – Forfeited due to Deflategate, and now Tom Brady's punishment was overturned and he'll be suspended to start the season. Go figure.
---