2015 NBA Mock Draft: Porzingis Falls to the Orlando Magic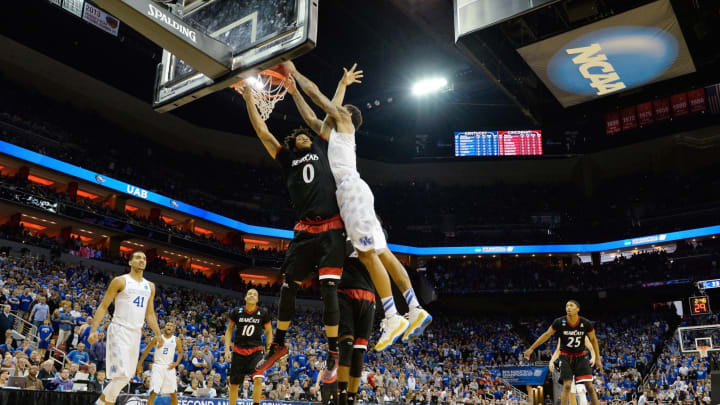 The NBA Draft is June 25th, one week from today. This is our 5th and final 2015 Mock Draft. We had a premature Mock Draft in June 2014, then a pre-NCAA Tournament Mock Draft in February, a Mock Draft in April after everyone declared for the draft, and a May Mock Draft after the Draft Lottery.
1. Minnesota – Karl Anthony-Towns, PF/C, Kentucky. No change. Seems like a formality.
2. LA Lakers – Jahlil Okafor, C, Duke. Think they like Russell. Don't believe the Mudiay or Porzingis scuttlebutt. If you have doubts about Okafor, listen to Jay Bilas talk about how he's the best player in the draft.
3. Philadelphia – D'Angelo Russell, PG, Ohio State. The Joel Embiid situation is troubling, but it shouldn't lead them to alter their draft plan. They're in dire need of a point guard to lead this team into 20-win territory. I lean Russell over Mudiay. One more lottery pick next year, then Russell, Noel, Embiid and Saric + someone from the 2016 draft and the 76ers are actually watchable.
4. New York – Emmanuel Mudiay, G, China. I want it to be Winslow. I think he could play the Scottie Pippen position in the triangle offense. I won't be devastated if it's not Winslow, because I like Mudiay's explosiveness … but I really like Winslow's all-around game.
5. Orlando Magic – Kristaps Porzingis, F, Latvia. Yes, I've read the hype. I just don't see how the Lakers can justify taking him, and certainly there's no way Phil Jackson and the Knicks could do so. So Porzingis falls to the Magic, he's either a steal, or another European bust in Orlando (go look up Fran Vazquez). He won't help Orlando defensively, unfortunately.
6. Sacramento Kings – Willie Cauley-Stein, C, Kentucky. Rim-protector should help take some of the defensive load off of DeMarcus Cousins. Yes, part of me purposely bypassed putting Winslow in basketball's Siberia.
7. Denver Nuggets – Justise Winslow, G/F, Duke. Don't know if he'll morph into a franchise player, and he could struggle in year one surrounded by very little talent. Should produce at least two Top 10 highlights a week as a rookie.
8. Detroit Pistons – Frank Kaminsky, F, Wisconsin. With Greg Monroe leaving, couldn't Frank Kaminsky be the Stretch 4, playing the role Rashard Lewis did in Orlando under Stan Van Gundy with Dwight Howard in the middle? Andre Drummond would play Howard's role. You like?
9. Charlotte Hornets – Devin Booker, SG, Kentucky. They needed shooting last week, and given the trade of Lance Stephenson this week, Booker makes the most sense here.
10. Miami Heat – Stanley Johnson, G/F, Arizona. No change.
11. Indiana – Mario Hezonja, G/F, Croatia. Will Stuckey return? Miles feels like a producer off the bench. I've pegged bigs to the Pacers in previous mock drafts, but if a valuable shooter like Hezonja is there, I think he's the pick.
12. Utah – Sam Dekker, SF, Wisconsin. You didn't like it last time, but Gobert and Favors are keepers, and wing depth right now in the NBA trumps front court depth. The idea of going small with Gobert and four wings/guards is exciting, especially when two of those players are versatile like Dekker and Hayward.
13. Phoenix – Justin Anderson, G/F, Virginia. The Suns would love Dekker, or a pure shooting guard to pair with Bledsoe, but Anderson could actually play a little of both. Maybe he's the small forward they've been looking for?
14. Oklahoma City – Jerian Grant, G, Notre Dame. No change.
15. Atlanta – Trey Lyles, F, Kentucky. Could see playing time quickly, especially if Paul Millsap leaves as expected via free agency.
16. Boston – Myles Turner, F/C, Texas. Was in love with Turner early in the season, but he was a big-time letdown in Austin.
17. Milwaukee – Kelly Oubre, SF, Kansas. Middleton probably leaves and Mayo has one year left, and though Oubre isn't a natural shooting guard, he's what Jason Kidd loves – long, can play defense (when he wants) and the shooter the Bucks need.
18. Houston – Cameron Payne, PG, Murray State. No change. I like Payne a lot, I just couldn't find a landing spot for him higher than this.
19. Washington –Bobby Portis, PF, Arkansas. He replaces Kevon Looney from UCLA, whose stock has been plunging for weeks, as he's played his way out of the lottery into the 20s, where maybe he's a steal.
20. Toronto – Montrezl Harrell, PF, Louisville. No change.
21. Dallas – Tyus Jones, PG, Duke. No change. The Mavericks have had some horrendous drafts in the last decade, but have done well in free agency. Among guards in this draft, I'm not sure there's one who made more clutch plays as a freshman than Jones. Keep an eye on George De Paula of Brazil here.
22. Chicago – Rashad Vaughn, SG, UNLV. Does Fred Hoiberg want a backup for Derrick Rose, should he get injured again, or does he find a way to inject some scoring onto this team? Vaughn is a very good shooter.
23. Portland – Kevon Looney, PF, UCLA. It really feels like the Blazers are drafting on the idea they're losing LaMarcus Aldridge to free agency, and though Meyers Leonard showed improvement, Looney has more upside.
24. Cleveland – Terry Rozier, PG, Louisville. Versatile. Outstanding defender and aggressive offensively. When Kyrie Irving gets hurt, he'll give you much more than Delly ever did.
25. Memphis – RJ Hunter, SG, Georgia State. Really feels like a shooting guard here, given Jeff Green and Courtney Lee have a year left on their deals, and Tony Allen remains a liability offensively.
26. San Antonio – Jonathan Holmes, F, Texas. Bullish on his prospects. Imagine him learning the finer points of being a Draymond Green-type player from Boris Diaw?
27. LA Lakers – Pat Connaughton, SG, Notre Dame. No change. Assuming they don't get Russell at No. 2, it'll be a shooter here, and I'm not sure there's a better one left on the board than Connaughton.
28. Boston – Rondae Hollis-Jefferson, SF, Arizona. Really just a one-dimensional player, but he has a chance to be an elite defender. If he could ever find a reliable jump shot …
29. Brooklyn –Delon Wright, PG, Utah. Deron Williams and Joe Johnson don't play any defense, and if the Nets want to keep them on the court in crunch time, they'll need to add a sharp defender like Wright.
30. Golden State – Jordan Mickey, F, LSU. Given the constant health issues of Bogut, and the fact they could trade David Lee and probably won't retain Marreese Speights, it makes a lot of sense to get a post player who could play the 4/5.