2014 NFL Mock Draft - Five Weeks to the Draft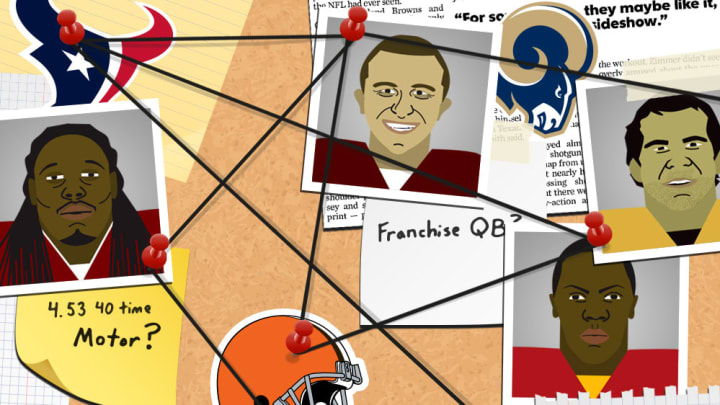 The first 2014 Mock Draft was one day after last year's actual draft. Mock Draft No. 2 came in the middle of the college football season. Mock Draft No. 3 came before the bowl games. How could Teddy Bridgewater go from No. 1 to out of the first round in three months? My trip to the NFL Draft Combine in Februaryand subsequent talks with scouts and NFL personnel had something to do with that. Below is what I think will happen. I actually believe "Small Hands" Bridgewater, three years from now, will be the best QB from this class. The above CineSport video is me talking about the draft.

1. Houston – Jadeveon Clowney, DE, South Carolina: Will the new regime go QB, or wait for the top of the second round? Five weeks before the draft, it feels like the best move is to take the best player in the draft, worry about QB later. And hey, Ryan Fitzpatrick is on the roster just in case!
2. St. Louis Rams –  Greg Robinson, OT, Auburn- Don't think Rams will show their hand until Houston picks. Obviously the Rams couldwould love to trade down if someone is enamored with one of the QBs. The word I keep hearing is that teams don't love the QBs in this draft the way the media loves to talk about QBs in this draft. Fisher has never taken an offensive lineman in the 1st round, maybe he bucks the trend here?
3. Jacksonville – Khalil Mack, LB/DE, Buffalo: Jaguars need a QB, and would pack the stadium with Johnny Manziel, but I'll go with defensive-minded Gus Bradley taking the immensely talented Mack. The Jacksonville defense was near the bottom of the league in many statistical categories, but added lineman Ziggy Hood, Chris Clemons, and Red Bryant. Mack gives them a very strong front seven.
4. Cleveland – Johnny Manziel, QB, Texas A&M. But they didn't attend his Pro Day or interview him at the Combine! [See 26 for more.]

5. Oakland – Sammy Watkins, WR, Clemson: Remember when he ran over Ohio State linebacker Ryan Shazer (who will be a 2nd round pick)? Raiders have their bridge QB in Matt Schaub, and since they don't want to keep Terrell Pryor, they can draft a young QB later – Logan Thomas, maybe? – and hope to bring him along slowly.
6. Atlanta – Jake Matthews, OL, Texas A&M. Matt Ryan was sacked 44 times and threw a career-high 17 interceptions (yes, he missed Julio). The Falcons were a disaster, but free agency was a mild success and getting help protecting Ryan should be the top priority.
7. Tampa Bay – Mike Evans, WR, Texas A&M. Much has changed for Tampa since the last mock draft. New coach, new GM, a slew of free agents, and a new QB (Josh McCown). Beefed up big-time defensively and on the OL. Mike Williams had such a bad offseason, Evans makes complete sense. Pair him with Vincent Jackson and you essentially have what McCown had in Chicago. 
8. Minnesota – Ha Ha Clinton-Dix, S, Alabama. Too early for a safety? The Vikings have a new coachand solidified the defensive line in the offseason. A Clinton-Dix/Harrison Smith pairing in the back is formidable. Yes, there is a hole at QB, but the sense I get in talking to people around the league is that Bridgewater, McCarron, Mettenberger and Garoppolo will all go early in the 2nd round. Be prepared for a Norv Turner/Jimmy Garoppolo pairing. 

9. Buffalo – Taylor Lewan, OL, Michigan. Doesn't appear his off-the-field situation will hinder his status. Bills have big needs at safety and on the OL. Coach Doug Marrone is a lifelong offensive guy and will get Mike Evans if he's still on the board here. You give EJ Manuel a stud lineman to block for Spiller/Jackson and pass protect for a fleet-footed group of WRs and the Bills could be explosive.
10. Detroit – Darqueze Dennard, CB, Michigan State. Jim Caldwell is an offensive mind, but he inherited a prolific offense that just added Golden Tate and re-signed TE Brandon Pettigrew. It's gotta be defense, right? The secondary is a primary need (as usual) for the Lions. The non-DB to watch here is CJ Mosley, a linebacker from Alabama.
11. Tennessee – Anthony Barr, OLB/DE, UCLA. New coach Ken Whisenhunt is an offensive guy, but in talking with three teams drafting after the Titans, none expect him to take a QB here. He brought over "his guy" Charlie Whitehurst from San Diego, and yes, I'm laughing, but Whisenhunt apparently believes Whitehurst or Locker can take this team to the playoffs. It's a deep CB draft, but not a great one for pass rushers after Clowney. Barr's nasty.
12. New York Giants – Aaron Donald, DT, Pittsburgh. The Giants have massive needs at TE, OL and DL, and they lost Hakeem Nicks to free agency. Giants fans keep calling for Eric Ebron but the sense around the league is that New York goes back to what led to their Super Bowl trips – an aggressive defensive line. Yes, they spent 2nd and 3rd round picks on DL last year. Donald put up Suh-type numbers at Pitt.
13. St. Louis – CJ Mosley, LB, Alabama. Complete package gives the Rams are very fearsome front seven. The next batch of WRs after Watkins/Evans are very good, but some will also be available when the Rams are up in the 2nd round. Mosley won't be.
14. Chicago – Calvin Pryor, S, Louisville. Defense was last in the league in yards per play (6.2) so it has gotten an overhaul. They'd love Clinton-Dix to be here, but with him gone, they grab Pryor, a hitting machine. This falls into a "need" over a "best player available," which can be risky. Would they wait for Jimmie Ward or Lamarcus Joyner in the 2nd and instead take a CB here?
15. Pittsburgh – Jason Verrett, CB, TCU. This roster got old fast. The Steelers definitely need WR help, but it'd be a shock if they took one here especially given their recent history of late-round hits (Brown in the 6th, Sanders in the 3rd), coupled with the major defensive issues. What about a tight end with Heath Miller near the end of his career? Or a disruptive defensive lineman? I'm agreement with this – they need a cornerback or two in the draft. Verrett is small, but can lower the boom.
16. Dallas – Dee Ford, DE, Auburn. The weakest defensive line in the league after the departure of DeMarcus Ware, the Cowboys must address this in the draft, and early. Another option is Kony Ealy of Missouri but definitely don't rule out Stephon Tuitt. He was considered a Top 10 talent coming into last season, but had an underwhelming junior year. After Clowney, I think Tuitt is the most talented defensive end.
17. Baltimore – Zack Martin, OT, Notre Dame. Protect the franchise. Also, replace Michael Oher. If Flacco gets time to throw to both tight ends and Steve Smith and Torrey Smith? After addressing the OL, they can focus on defense the rest of the way. Well, and get a backup for Bernard Pierce. You know, if Ray Rice doesn't return.
18. New York Jets – Eric Ebron, TE, North Carolina.. The WR they want (Evans) is gone, and in a perfect world, the tight end they'd love falls to them here. The problem: What if he's gone? Keep an eye on Anthony Barr out of UCLA. I think (hope?) all of the Marqise Lee tweets I get are inaccurate.
19. Miami – Cyrus Kouandjio, OT, Alabama. Would be floored if it was anything besides an offensive lineman. Thing is, Miami actually has a decent roster (assuming it doesn't get blown up). I'd say this is the make-or-break year for Ryan Tannehill.
20. Arizona – Blake Bortles, QB, University of Central Florida.There's actually Super Bowl chatter about the Cardinals, who had a solid free agency. The weakness, of course, is QB Carson Palmer. Enter Bortles, who probably won't win the job as a rookie, but would allow them to part ways with Palmer in 2015, and really load up for the Super Bowl run. I know – I'm crazy for not having him in the Top 5. Well, we'll see what happens.
21. Green Bay – Chris Borland, LB, Wisconsin. Love the Peppers signing. The defense struggled last year (28th in YPP), and will certainly be improved through FA and the draft. The Eagles have gone OL/DL five times in a row in the 1st round (nailed Lacy and Cobb in the 2nd recently). How about the ILB tandem of AJ Hawk and Borland, a 2-star recruit out of high school who was dominant with the Badgers? Two non-LB names: Xavier Su'a-Filo, OL, UCLA and Kyle Fuller, CB, Virginia Tech.
22. Philadelphia – Trent Murphy, LB/DE, Stanford.Taking a WR feels knee-jerk to the DeSean Jackson departure for rival Washington. The Eagles did add Darren Sproles as a weapon. And Jeremy Maclin is back after missing all of last season. It'd be so Chip to ignore a WR here. Murphy, two years ago against Chip Kelly's Ducks: two tackles for loss, two sacks. Kelly drafted four Pac-12 players last year. The Eagles were 20th in the NFL in sacks in 2013.
23. Kansas City – Odell Beckham Jr., WR, LSU. Defense was stout last season, but the offense really struggled at times. The running game is formidable with Jamaal Charles, but Alex Smith could use a strong No. 2 receiver.
24. Cincinnati – Justin Gilbert, CB, Oklahoma State. I left him off my last mock draft and yes, I heard your complaints. Mayock and Kiper love Gilbert and McShay hates him. I fall somewhere in between. The Bengals have holes after losing several starters in free agency. Here's one position that could be in play if Andy Dalton doesn't get an extension by the draft: QB. Yes, Dalton has the team's 'vote of confidence,' but you know how long that can last in sports.
25. San Diego – Xavier Su'a-Filo, G UCLA. Quiet free agency. There are some defensive issues – though you couldn't tell from the tape against Denver – but I'll go offensive line here. There are some good UCLA/San Diego Chargers connections in this story.
26. Cleveland Browns (from Indianapolis Colts) – Bradley Roby, CB, Ohio State. Maybe the most fun team to mock draft because a) two 1st round picks, b) need for a QB, c) lengthy history of futility. Just remember what their new GM said: "The systems we're using are really based on keeping everybody in the dark."
27. New Orleans – Morgan Moses, OT, Virginia. Fashionable to go with a skill player here given the loss of Sproles and Lance Moore, but in a division with Carolina's monster pass rush, and in a conference where they'll have to get by San Francisco (Ahmad Brooks!) and Seattle in the playoffs, bolstering the OL is paramount. Drew Brees took a beating last year.
28. Carolina – Brandin Cooks, WR, Oregon State. Desperately in need of a WR after losing their top three from last season. They'll probably have to draft multiple WRs. Why not Marqise Lee? Well he looked a lot better catching passes from Matt Barkley opposite Robert Woods two years ago. And he drops a lot of passes. Could Lee be a steal in the 2nd round? Sure. Still, I'd rather have Vandy's Jordan Matthews.
29. New England – Ra'Shede Hageman, DT, Minnesota. Figures to be the defensive line, right? I'm probably undervaluing a solid group of DL – Jernigan and Nix, too – but in talking to teams and scouts, the interest just doesn't seem that great. Maybe I'm getting smokescreened?
30. San Francisco – Kyle Fuller, CB, Virginia Tech. Arguably the best roster in the NFL has no massive needs, despite all the hullabaloo about adding a WR. I love Fuller – he was tremendous in the season opener against Alabama's star WR Amari Cooper, but this does feel knee-jerk following the arrest of Chris Culliver.
31. Denver Broncos David Yankey, G, Stanford. Enormous offseason haul. Aqib Talib, T.J. Ward, Emmanuel Sanders and DeMarcus Ware. What's left? They could use a LB – or sign one off the street like they did the last two years – and a guard, but there really are no "needs." When in doubt … protect the franchise. They sure couldn't in the Super Bowl.
32. Seattle – Cody Latimer, WR, Indiana. The Seahawks lost Golden Tate in free agency. Latimer is a plug-and-play guy and he's already lined up visits to many teams drafting early in the second round. Strong, fast, and oh, he had a nice game against Mr. Dennard. In two weeks, we'll talk about Latimer sneaking into the early 20s.