15 Best SportsCenter Anchors in ESPN History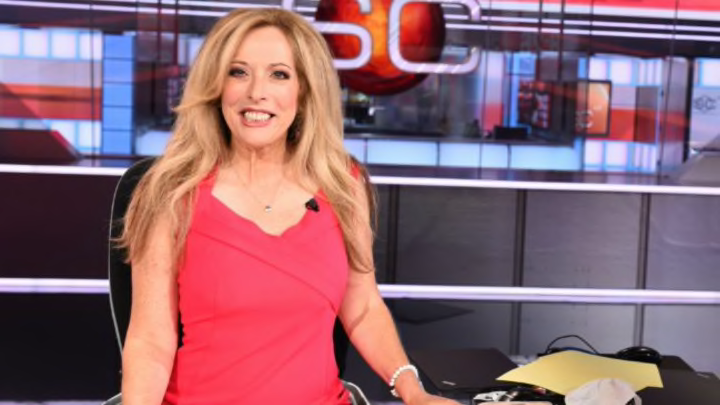 Courtesy ESPN /
Through revolutionary foresight and an endless stable of creative innovators, SportsCenter transformed the way sports fans consume news, gather information, and made the world smaller. And while the highlights themselves have always been the lifeblood, the personalities delivering them serve as the heart to keep the life coursing through veins.
Attempting to determine which of the hundreds of SportsCenter hosts have been the best is an impossible task. Viewers have differing tastes and mileage will vary. Despite these pitfalls, we gave it a try anyway.
Longevity, star power, innovation, and a certain je ne sais quoi were weighed in the decision. Our apologies to the snubs. Remember that those who can't do judge those who can.
#15 Sage Steele
Steele and Kevin Negandhi turned the 6 p.m. SportsCenter around ratings-wise. She excels at no-nonsense pregame and breaking news. There have been significant bumps in the road recently, yet she remains a staple at noon.
#14 John Anderson
Anderson is workmanlike in the best ways. Steady. A rock. He doesn't have to go out of his way to get a laugh or use a particularly clever line. And sometimes, like in the case of Fear the Deer, he isn't immediately credited for nailing it. For 22 years he's been showing up and getting the job done. Tough to outdo his star turn on Wipeout, but that's how good he's been.
#13 Robin Roberts
Roberts was part of a 6 p.m. SportsCenter with Charley Steiner and Bob Ley, which is pretty remarkable in retrospect. She was polished and had gravitas from the beginning and it's no surprise she transitioned into news at the highest levels with ABC. Her ability to connect with people — both in person and through the television — is elite.
#12 John Buccigross
What Win Butler is to Arcade Fire, Buccigross was to the late SC, in an era when it was allowed to stretch its legs. He shines in freeform conversation and is incredibly comfortable away from the desk, whether it be a bit with Barry Melrose or a setting up an analyst at a touchscreen.
#11 Charley Steiner
Another testament to versatility. After providing some of the funniest on-air moments of the show's history, Steiner left for greener pastures and became one of the finest baseball announcers working the game today. His SC ride dovetailed with the program's ascension.
#10 Kenny Mayne
There are countless ways to get from Point A to Point B. In SportsCenter terms, that means showing those what happened in sports. Mayne has never been afraid to take every damn one of them. It's a joy to watch him perform his own type of rebellion, in a suit, behind a desk. It's a wild, unpredictable ride that audiences have enjoyed since the late 1990s.
#9 Steve Levy
His co-workers are quick to praise him for his selfless approach, the ultimate team player. Levy has quietly put together an incredibly successful and influential career at the Worldwide Leader. Serving as SC host following a major event is one of the regular feathers in his cap. The show is always in capable hands when he's on the call sheet.
#8 Rich Eisen
The smoothest to ever do it. Few broadcasters have succeeded in making the chaotic job look easier. Eisen was a dynamo in his seven years at ESPN, equally skilled in comedic references and serious tone. The job of an SC anchor changed greatly during his time there and precipitated his departure to NFL Network. Things worked out.
#7 Scott Van Pelt
Van Pelt has always been fantastic and his re-imagining of the midnight SportsCenter proves the show still has cultural currency in capable hands. He's able to tap into those old-school sentimentalities and fuse it with a thorough understanding of what works in 2022. His essays are poignant and resonate and he's usually at his best when he's unabashedly human.
#6 Dan Patrick and #5 Keith Olbermann
It's only right that The Big Show creators check in together. The best duo in SportsCenter history in terms of playing off each other. Patrick, straight out of central casting and even-keeled, was the perfect complement to Olbermann, who many consider to be the best writer to ever work at ESPN. The two made beautiful music together, though it wasn't always smooth. To watch was to feel the electricity in the air.
#4 Linda Cohn
This is her 30th year anchoring and she hasn't lost her fastball. She approaches each one like it's her first, and that effort shows. The longest-tenured anchor has infectious energy but isn't afraid of a subtle bite or dig. No one has ever done hockey highlights with more gusto. Cohn is another person who has become an ESPN institution without great fanfare and she belongs in the top-five.
#3 Bob Ley
SportsCenter's halcyon days came before highlights were readily available. While the pictures provided evidence, it was essential to have an anchor with gravitas, one worthy of public trust, one whose word could be taken to heart. Ley, who was with the network since the very beginning, was the voice of God. The conscience of ESPN. What people fail to realize is that the no-frills style can be harder than the flashier approach. It just means the foundation must be that much more solid. Ley is on the firmest of ground as an anchor, as with everything else.
#2 Chris Berman
He is ESPN. The nicknames. The catchphrases. The unabashed desire to have fun. For so many years, sportscasters all over the world tried to do a Berman impression. He was often imitated and never replicated. He built a template, though, for others to build upon. There was nothing like tuning in and seeing that it was a Berman episode. That was the big-time.
#1 Stuart Scott
It takes a special talent to do what Scott did. It's not easy to come into an existing and powerful entity at the top of its game and transform it into something different and even better. His revolutionary way of approaching the job and style made SportsCenter's tent that much bigger. And while so much has been rightly made of his artistic flourishes, the thing about Scott that was so amazing was his straight news chops. He could pivot from fun to somber at the drop of a hat and expertly navigate both spaces.