10 NFL Teams Will Be in the Market for a Quarterback Early in the 2014 NFL Draft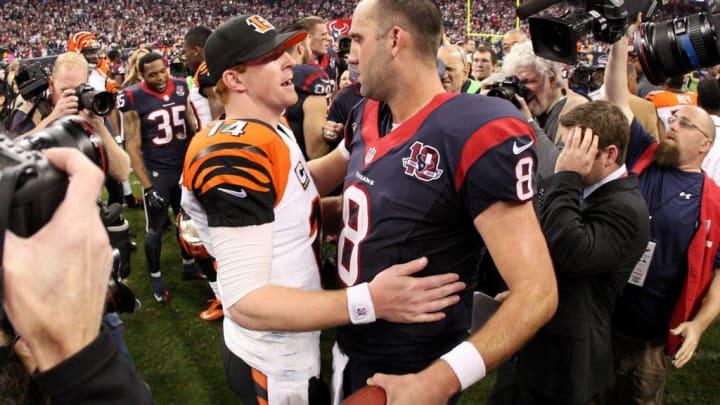 The 2014 NFL Draft is loaded with quarterbacks, and that's a good thing, because nearly 1/3 of the NFL is in need of a new signal caller. Whether it is because of under-performing starters (Andy Dalton in Cincinnati, Matt Schaub in Houston), band-aids that are coming off (Carson Palmer in Arizona, Mike Vick in Philly), or teams completely starting over (Jacksonville, Tampa Bay, Cleveland), quarterbacks will rule next May's draft. The 1999 NFL draft saw five QBs taken in the first round. All five went in the Top 12 (Couch 1, McNabb 2, Smith 3, Culpepper 11, McNown 12). [Ed. The 1983 draft holds the record: Six QBs were taken. There were 28 teams in the league at the time.] The 2014 draft is still eight months away, but it appears a new record will be set for QBs going in the first round.
Here's who needs a QB, with some options to consider in the first round. Remember, it's a long college football season. Last October, Geno Smith and Matt Barkley were at the top of mock drafts. Neither went in the first round:
acksonville 0-4. Most likely options: Teddy Bridgewater (Louisville), Brett Hundley (UCLA)
Gabbert/Henne/Tebow (the last one is wishful thinking) are probably the worst QB trio in the NFL, and the Jaguars will definitely be drafting a QB. Jacksonville does have many needs – witness this week's trade of Eugene Monroe to acquire more picks – so there's a chance they slide down a pick or two, the way the Rams did a couple years ago, passing on RG3 and stockpiling picks.
Tampa Bay 0-4. Most likely options: Zach Mettenberger (LSU), Teddy Bridgewater (Louisville), AJ McCarron (Alabama)
Josh Freeman's gone, and Mike Glennon, even though coach Greg Schiano loves him, won't be the long term guy. While a read-option QB would be dangerous with Doug Martin, I don't get the sense Schiano is a fan. Dating back to his time at Rutgers, he seems to lean to statuesque pocket passers, which is why Mettenberger could be the guy. I put Bridgewater here because yes, I think Tampa could implode and end up with a top three pick. Another option: Bolster offensive line early, grab McCarron at the top of the 2nd round.
Minnesota 1-3. Most likely options: Marcus Mariota (Oregon), Tajh Boyd (Clemson), Brett Hundley (UCLA)
Christian Ponder has been inconsistent, doesn't have a huge arm, and despite good running ability, I'm not sure he's the long-term guy in Minnesota. Matt Cassel sure isn't starting material. But will offensive coordinator Bill Musgrave return? Given the Ponder/Joe Webb runs at QB, does this mean the Vikings would implement some read option with Adrian Peterson? A Mariota-Peterson combo could be disgusting.
Philadelphia 1-3. Most likely options: Marcus Mariota (Oregon), Johnny Manziel (Texas A&M), Tajh Boyd (Clemson), Braxton Miller (Ohio State)
Eagles can get out of Vick's deal after this season. Even though he's playing well (2nd to Peyton in yards per attempt), he's only completing 55 percent of his passes and his fragility and age (34 next June) are issues. Mariota was Chip Kelly's QB at Oregon, and Kelly famously recruited Manziel. I've got Braxton Miller as a sleeper in case Mariota doesn't leave school early. The potential for the Eagles going defense first, and then hoping a read-option QB is there later could happen, I suppose.
St. Louis 1-3. Most likely options: Tajh Boyd (Clemson), Brett Hundley (UCLA)
Sam Bradford, the QB with the worst contract in the league, has worn out his welcome in St. Louis. His 4th year is similar to his first three – a shade under 60 percent completions, still absorbs too many sacks, and his YPA is stuck around 6. The Rams not only have their first round pick, but Washington's too, and that could be a Top 15 pick as well. Do they find a star receiver first, then go QB? Or an elite CB then QB? Either way, a QB has to be a top priority. Boyd/Hundley might remind Jeff Fisher of a young Steve McNair.
Arizona 2-2. Most likely options: Teddy Bridgewater (Louisville), Zach Mettenberger (LSU)
Carson Palmer was a rental until Arizona GM Steve Keim and coach Bruce Arians can find their guy. This team also badly needs a running back. And an offensive line. You've got Larry Fitzgerald and Michael Floyd, but no running game to set them up. If the bottom falls out of the Cardinals – could easily happen, again – a Top 5 pick could be in play. I suppose you could ride out one more year with Palmer, and wait for the middle rounds to take a QB like David Fales of San Jose State or a project like Logan Thomas of Virginia Tech.
NY Jets 2-2. Most likely options: Zach Mettenberger (LSU), Brett Hundley (UCLA).
Geno Smith, the 2nd round pick in 2013, isn't automatically the future. He might be, but through four games, he has 11 turnovers and if this keeps up, I can see this scenario unfolding: Jets cut Sanchez (lock) and then use a Top 10 pick on their QB of the future. In 2010, the Panthers took Jimmy Clausen in the second round. The following year, they took Cam Newton first overall. The Jets have a playoff-caliber defense led by the defensive line. They could be a playoff team next year – with the right QB. If you want to "bring Geno along slowly" just remember – after next season, some valuable members of that defense become free agents. Is there time for that?
Cleveland 3-2. Most likely options: Tajh Boyd (Clemson), Brett Hundley (UCLA)
Covered the Browns in this post. Despite the three wins in a row, I think the pick will be Top 10, and remember – other pressing positions can be taking care of with the Colts' first round pick (probably 16-23 range).
Cincinnati 2-2. Most likely options: Derek Carr (Fresno State), Stephen Morris (Miami)
Bengals could fall of this list by November. Would you extend Andy Dalton given what you've seen so far? Next year is the final year of his rookie deal, and as was the case with Josh Freeman last summer, it seems unlikely he'll get an extension. Dalton is basically Mark Sanchez, except he's been less clutch in the postseason (Dalton 0-2). How high the Bengals take a QB depends on this season's record. QB is really the only weak link on this team, and a 6-10/7-9 regression would almost certainly mean it's time for a new QB. I've listed Carr and Morris because I think the Bengals wait for the 2nd or 3rd round for a QB.
Houston 2-2. Most likely options: Johnny Manziel (A&M), AJ McCarron (Alabama), Braxton Miller (Ohio State), Aaron Murray (Georgia)
See Cincinnati, except Matt Schaub has been much worse this season than Dalton. Schaub has three (!) pick-sixes in the last three games. Two came in the fourth quarter. Yes, he's had a nice run in Houston. But the way his deal is structured, the Texans can cut Schaub and not take a financial hit. If they landed an NFL-ready QB in the draft, the weapons are in place for that QB to be successful, although the offensive line could use some work. Note: I've listed Aaron Murray here, but I don't think he's a 1st round pick. Given how many 2nd/3rd round picks have won jobs in the last couple years, that could be where Murray falls … and then wins the job.
Could make this list later in the season:
Tennessee 2-2.