Should the New York Jets Be Concerned By Zach Wilson's Half-Hearted Wave With Mystery Woman at the Yankees Game?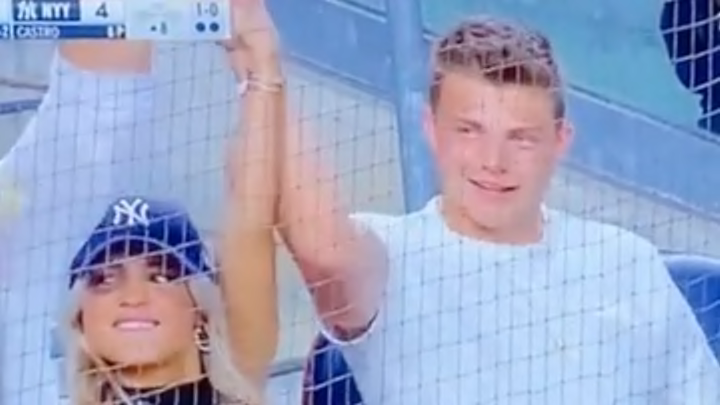 New York Jets quarterback Zach Wilson was in the Bronx last night to watch the red-hot Yankees win their 46th game in 62 tries. As luck would have it, he had incredible seats and was even allowed access to the field before the game. Your milage may vary, but to me, the outlet that's set the standard in reporting on this incident is the New York Post. Yet even they could not unearth all the answers to pressing questions as indicated by their headline: Zach Wilson does half-hearted wave with mystery blonde at Yankees game.
Seated next to a mystery blonde — she did not appear to be ex-girlfriend Abbey Gile or the unidentified woman from a jaunt to Miami in March— Wilson took part in the wave as it went around the stadium.
Wilson took part in the wave, but he did not fully commit to the bit — probably because the wave kind of stinks. Since it's late June, though, and the NFL content is a bit sparse, it's worth someone's time to wonder if Wilson's lack of enthusiasm should be cause for concern. Like, if his heart isn't in a forced-participation event during a baseball game, can he really be trusted running the two-minute drill in snowy Buffalo? Are his teammates going to follow him or will they see this lackluster effort and conclude he just doesn't have enough heart?
Then there's the other elephant in the room. A mystery woman? In this economy? That's just flirting with disaster. My extensive study of film suggests this could end with Wilson inadvertently delivering the NOC list to hostile hands. And what's this business a previously unidentified woman? How can a New York Jets quarterback possibly hope to achieve success when he's jaunting down to Miami in March and sitting next to someone who cannot be immediately recognized a few months later? Would Joe Namath have done something like this? Mark Sanchez?
Definitely something to keep an eye on.