Zack Littell, Gabe Kapler Argue on Field, In Giants Dugout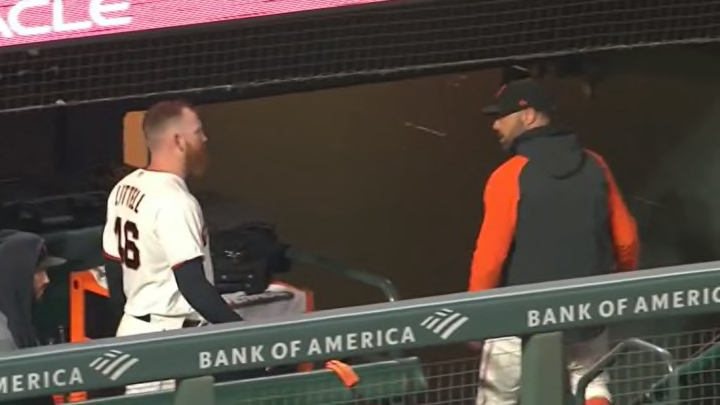 The San Francisco Giants are in the midst of a disappointing season and tensions seem to be boiling over. After winning the NL West in 2021 with MLB's best record, the Giants have followed it up with a flop in 2022 as they are currently five games below .500. It's wearing on everyone and we saw an example of it Monday night.
In the top of the eighth inning of a contest against the Atlanta Braves, reliever Zack Littell was struggling. He entered the game with a 3-0 lead, but surrendered a double, walk and a single to load the bases with no outs. Dansby Swanson belted a two-run single after that, cutting San Francisco's lead to 3-2. Littell got Austin Riley to ground into a double play, but manager Gabe Kapler came to the mound to pull him with two outs.
Littell wasn't a fan of that, and had words for Kapler as the skipper took the ball from him on the mound. After both men were back in the dugout, Kapler said something to Littell and the two men went into the tunnel to have words.
Here's video of the entire interaction:
For what it's worth, Kapler's move worked. Scott Alexander got Matt Olson to fly out to left to end the eighth, then finished the Braves off in the ninth, closing out a 3-2 win and earning a save.
Simple bit of advice for Littell: if you don't want to get pulled, don't give up runs.