Zach Wilson Tripped Over His Own Feet, Fell on His Ass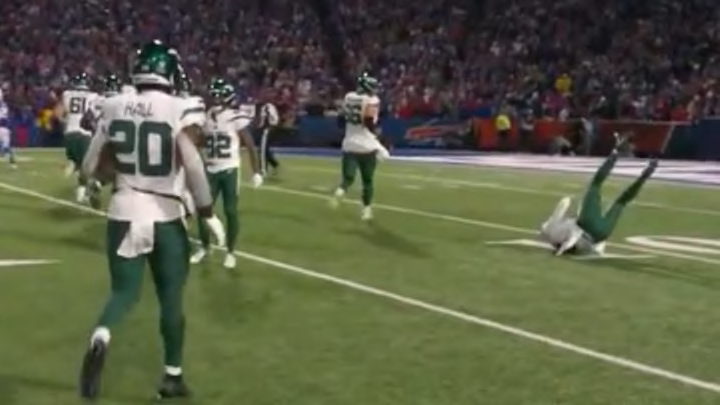 Even a person with genuine hatred in their heart for the New York Jets has to feel a bit sorry for Zach Wilson. It wasn't his fault that the franchise used a No. 2 overall pick on him then, like everyone else, realized they'd made a Gob Bluth-sized mistake. It wasn't his fault that front-office brass wisely and quickly pivoted to Aaron Rodgers and got everyone all hot and bothered about pairing a competent quarterback with a Super Bowl-caliber defense. And it's certainly not his fault that he's out there still playing while Rodgers tries to break science and medicine.
But he continues to exist under center for Robert Saleh's offense and continues to be flat-out bad.
Through 28 minutes of play today in Buffalo, Wilson has completed two of his seven pass attempts for 32 yards and thrown a costly interception which set the Bills up for their only touchdown thus far. By comparison, Jets punter Thomas Morstead is a perfect 1-for-1 and 18 yards through the air.
Barring some sort of miracle, Gang Green will be falling to 4-6 and their slim playoff hopes will move closer to life support. The shows are going to be absolutely brutal on the Wilson topic and in this specific case you cannot blame them.
How bad have things gotten? Wilson's lone highlight today is tripping on his own feet and falling on his ass.
Poor guy. This is really difficult to watch and likely doing more harm than good to both his current team and future prospects.