Young Diamondbacks Fan Robbed Spencer Steer of a Home Run Robbery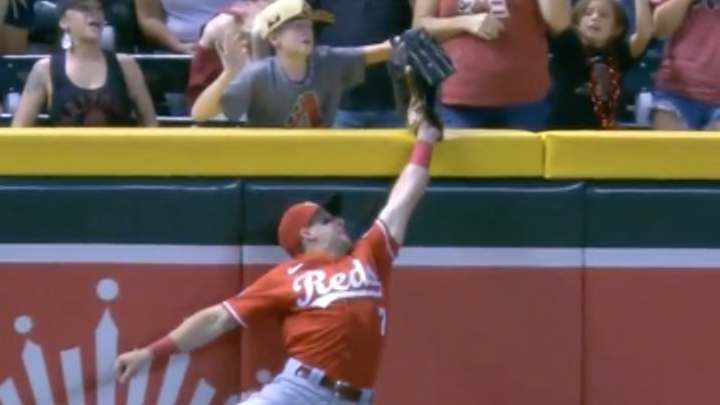 Remarkable wrist strength /
On Friday night the Arizona Diamondbacks, perhaps this season's biggest surprise, held off a late rally from the Cincinnati Reds (a pleasant surprise in their own right) to win their 68th game of the season, 10-8. The game was not without its theatrics, though.
In the bottom of the seventh Tommy Pham was up with men on the corners and blasted a deep drive to left field. Reds outfielder Spencer Steer went up to try and rob Pham of a three-run home run that would've effectively put the game away. Steer very nearly pulled it off-- if not for a young Diamondbacks fan who robbed him of his home run robbery.
And frankly it was pretty impressive. Kid has got some strength for his age if he managed to rip the ball from a pro.
As noted the fan was ejected, which seems like an absurd hardline rule. Like, yeah, you can't do that, but it obviously was not malicious and you can bet he'll never think about reaching over again after potentially costing his team three runs. He reached into the field of play but not by very much. I get you probably can't have any wiggle room with the rule but MLB should think about a case-by-case basis thing.
Not like any of it mattered anyway. The D-Backs won and the kid can go back to school bragging about how he robbed a home run robbery.