Latest NBA Leads
Yeah, America Put a Man on the Moon, But the NBA Put a Basketball Coach in the Metaverse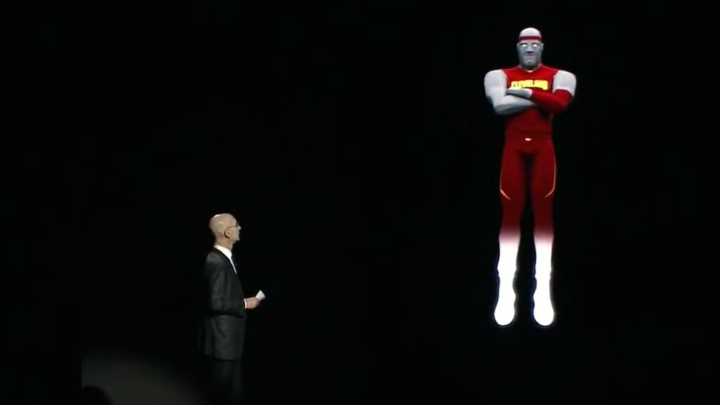 Adam Silver looking at a floating image. /
The NBA world is gathering in Cleveland this weekend for the All-Star Game. Ahead of the actual festivities Adam Silver hosted some kind of panel that included the introduction of "Coach Nat," a basketball coach that exists in the Metaverse and sure sounds a lot like Shaquille O'Neal.
Maybe the most underrated silly part of this is that Coach NFT is on a panel with Barack Obama. This man had the nuclear codes and now he's fielding questions alongside a cartoon Shaq? A Space Jam 2 cameo would have been less embarrassing.
But seriously folks, what the f--k is this? Who requires the help of a computer generated coach? What does this accomplish? Why are the richest people in the world so concerned with people interacting with the Metaverse? Especially while it just looks like a Nintendo Wii lobby?
Is Coach Nat supposed to be a virtual representation of Shaq? Of a real coach that exists on this mortal plane? Or is this a computer generated coach? Is it based on a retired player? Alexa Shved? Siri Welsch?
I know there's an incredible amount of time, money and technology has gone into this so why does it look so... dumb? This is what the NBA is doing instead of figuring out how to make the final three minutes of a game more palatable? The NBA's product should be professional basketball.