White Sox Enjoy Craziest Walk-Off of the Season After Umpire Gets Nailed in the Face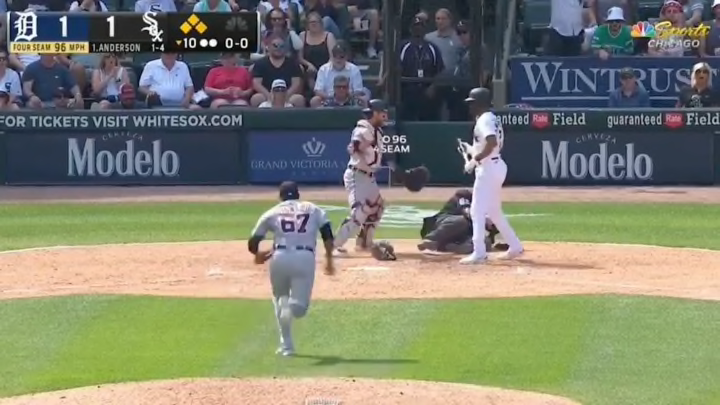 White Sox-Tigers /
The Detroit Tigers and Chicago White Sox played what looked like a very forgettable game on Saturday afternoon. Three runs were scored in total over 10 innings of play. There was not a single earned run among that grouping. The Tigers got their only run on the board thanks to a wild pitch in the sixth inning. The White Sox scored in the fourth, also on a wild pitch. It was shaping up to be one of those games that nobody remembers.
Then the bottom of the 10th rolled around and Chicago walked it off in truly absurd fashion. With the bases loaded and two outs, Tigers reliever Jose Cisnero's four-seam fastball went a bit too high for the catcher on the first pitch of Tim Anderson's at-bat.
As a result the home plate umpire took the 96-mph pitch straight to the dome. It rocketed off his mask into the backstop. Detroit was, understandably, too slow to react to this absurd sequence and the White Sox scored the walk-off run. Game over.
Just silly. You truly never know what you'll get with afternoon baseball.