What is the Anchorage Fur Rondy?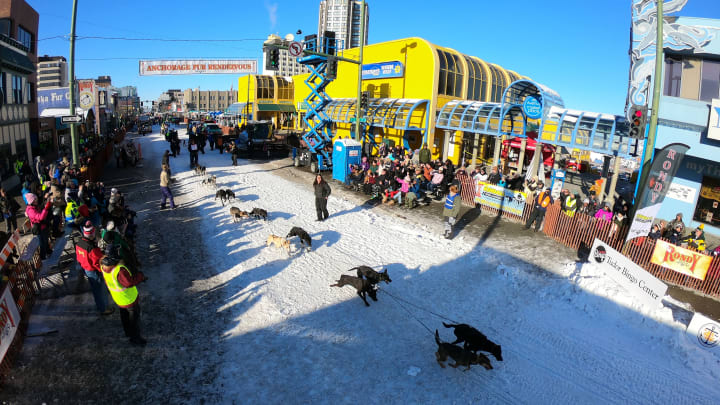 Alaska's 85th Annual Fur Rendezvous Winter Festival / Lance King/GettyImages
The Anchorage Fur Rendezvous exactly what you would expect from North America's largest winter festival. It's (obviously) in Alaska and has a rich tradition that dates back nearly a century. It has sled dog and outhouse races. People run with reindeer. Just your basic awesome winter stuff.
Known colloquially as the Fur Rondy or just Rondy, the event began in 1935 as a three-day festival that coincided with fur trappers and miners coming to town at the start of spring. These days it's a much longer event that coincides with the start of the Iditarod.
Per the official site:
Vern Johnson, the father of Fur Rendezvous, was a likable, outgoing Anchorage citizen with a keen understanding of social conditions. He and his friends decided to establish a 3-day winter festival that would coincide with the time that miners and trappers came to town with their yield. It began as a sports tournament, Feb. 15 – 17, 1936,  and featured skiing, hockey, basketball, boxing and a children's sled dog race down Fourth Avenue. Nearly the entire population of Anchorage turned out for the bonfire and torchlight parade. 

Since then, the Fur Rendezvous has earned national and international notoriety, and visitors from throughout the world descend on Anchorage every February to attend the 12-day festival.
The Fur Rondy features a carnival, parade, curling bonspiel, blanket toss (video below), outhouse races, shoeshoe softball and the Running of the Reindeer.
The 2023 Fur Rendezvous takes place from February 23 to March 5, with the Iditarod starting March 4th.