Watching Jusuf Nurkic Ball Out is an Inspirational Viewing Experience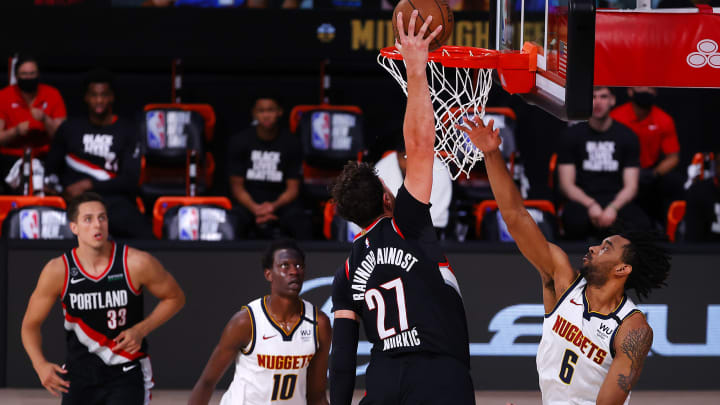 Jusuf Nurkic / Kevin C. Cox/Getty Images
It was just about a year and a half ago now that Jusuf Nurkic's career looked like it might be over. The Bosnian big man went down on March 26, 2019 with a horrible leg injury that resulted in a compound fracture of his left tibia and fibula. It was a terrible moment for any number of reasons. Nurkic was in the midst of a career year with Portland, averaging a double-double and looking like the perfect complementary big to the Damian Lillard-C.J. McCollum pairing. The injury looked so bad it was fair to wonder if he would ever step foot on the court again.
But Nurkic did. He rehabbed all year to get a chance to play in 2020, and he was nearing that point when the season was put on hold back in March. When the restart came around on July 31, Nurkic was healthy and ready to go, but it was fair to wonder how he would look after so much time away.
Yet, Nurkic has looked great. It's been amazing to watch. In his first game back, Nurkic scored 18 points, grabbed nine rebounds, and notched five assists to go along with six blocks and two steals. He scored 30 the next game. The center has been dishing assists and protecting the paint, propelling the Blazers to an unlikely sprint for the eighth seed in the Western Conference playoff picture. I mean, he's even hitting threes!
It's just great to see. He's clearly ecstatic to be back out there. It's like seeing Paul George work his way back to elite levels of play after a similar injury. Hopefully he continues to ball out with the Blazers and we see more of his resurgence. It's a comforting good feeling in a world where those can be hard to come by nowadays.