Washington Fan Destroys TV After Loss to Cowboys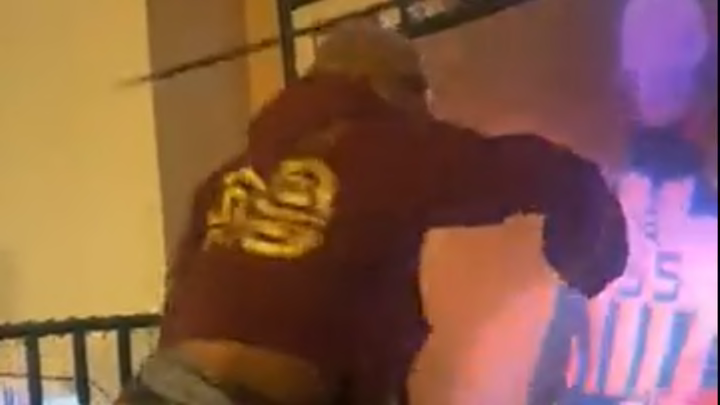 Washington Football Team fan breaks his TV /
The Washington Football Team almost made an incredible comeback to beat the Dallas Cowboys on Sunday. Unfortunately a late fumble that was held up on review cost them the chance to tie the game. One fan of the team took that turnover pretty damn hard and destroyed his TV in the process.
When the results of the replay review were in, the fan below threw one hell of a straight right into the center of his television's screen. The whole thing fell apart shortly after. Check it out:
Oof, not only is that a bad look, but his hand is going to be in some serious pain. Get that man a bowl of ice. Also, that's a really old, awful TV. It should have been destroyed a long time ago.
Washington trailed 24-0 at the half, and 27-8 in the third quarter. They scored 12 unanswered points and had the ball on their own 37-yard line with 2:34 left when Kyle Allen was sacked by Randy Gregory and fumbled the ball away. Jayron Kearse recovered it to all but lock up the win for Dallas.
Washington is now 6-7 on the season and the loss snapped a four-game win streak. Given how little was expected of the Football Team, this hasn't been a bad year. But for one fan, clearly the frustrations of losing to a division rival just boiled over.