Warriors And Kings Fans Brawled After Game 3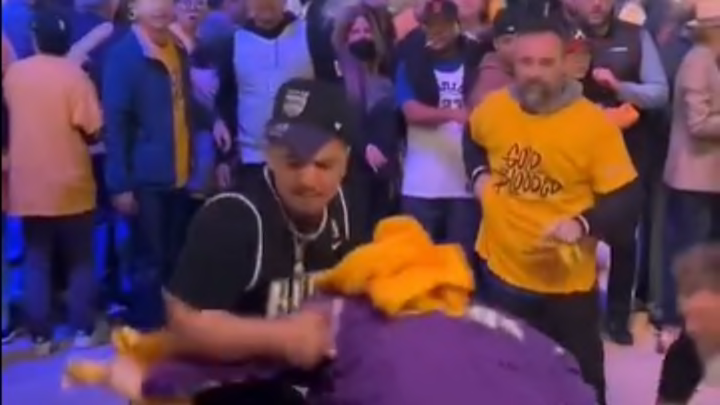 The Golden State Warriors and Sacramento Kings are having a contentious first-round playoff series on the court, but it's nothing compared to what their fans are doing off of it. Following Game 3 Thursday night, Warriors and Kings fans fought each other on the way out of the arena. It became a massive melee that definitely qualifies as a brawl.
Check this out:
Some pushing and shoving seems to start this, with a Kings fan taking a tumble into the barricade, then out of nowhere a white dude with a crooked hat in a Jason Williams jersey comes flying in throwing hands. Where the hell did he come from?
At one point there's some Kings fan on Kings fan crime here as the guy in the purple jacket pushes the dude in the Williams jersey back. But he was undeterred, he clearly says, "Get off me" and lays several more punches on a downed Warriors fan. Then after security stepped in to break things up, No. 55 leaned in again for a cheap shot on that same Warriors fan whose head was turned at that point.
That's a pretty eventful scrap. Nice work guys. Now lets hope they're all banned from every NBA arena for life.
Incidentally, the Warriors won Game 3 114-97 to close Sacramento's series lead to 2-1.