Wander Franco Made One of the Best Barehanded Catches in Baseball History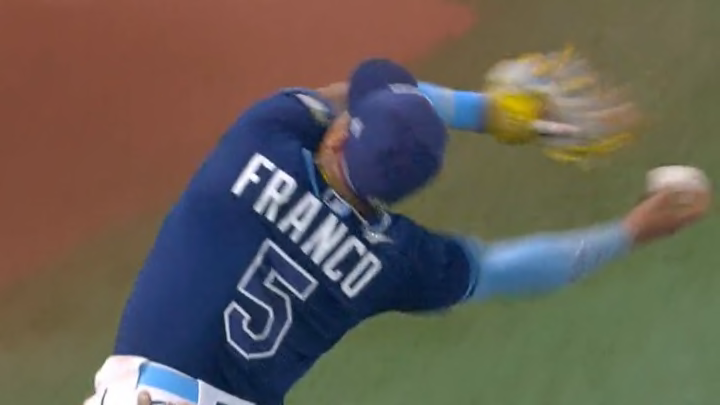 Maybe two or three guys in history every busted the guts out of a ball and maybe three guys in history have ever made barehanded catches as a subversive act against Big Baseball Glove. Wander Franco is the latest as he sprinted down the left field line to corral a Martin Maldonado pop-up in spectacular fashion during yet another Tampa Bay Rays' win last night.
The snag took place 96 feet from where Franco lined up at shortstop and was apparently due to as much luck as it was skill.
"In all reality, I couldn't reach it," Franco said with a grin through interpreter Manny Navarro. "I tried all I could with my glove, and my hand just happened to be there and it fell right into it.
"I couldn't believe it myself, but I caught it."
As if that wasn't enough, Franco also went 4-for-5 with two doubles, drove in two, and stole his fifth base of the season. It's as if someone had the temerity to suggest he wasn't one of the game's brightest young stars and he spent almost three hours putting them in the Boo Box from Hook metaphorically. Remember Hook? Remember how that was actually Glenn Close? Remember how Gwenyth Paltrow and Phil Collins are also in that movie?
Where were we? Oh yeah, Franco. His catch was in the top 1 percent of the top one percent of all recorded catches. It may have been better than David Wright's over the shoulder catch in the back of the end zone back in 2005.
But it was nowhere close to the gold standard of Kevin Mitchell charging hard into the left-field corner back in 1987 because nothing ever will be.