Virginia Upset by Furman Thanks to Absolutely Brutal Turnover in Final Seconds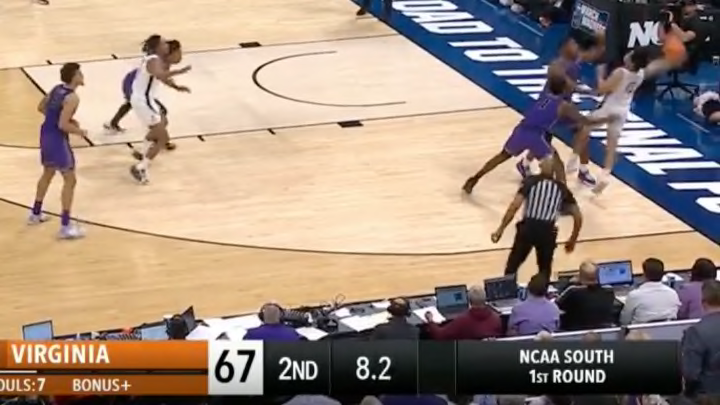 Virginia-Furman /
Fourth-seeded Virginia led for most of the way against 13-seed Furman as one of the very first games in this year's NCAA Tournament. As we all know, March Madness is called March Madness for a reason and no game is over until the fat lady sings. Furman hung tight and gave themselves a chance with less than 10 seconds to go.
Down 67-63, Furman drew a (very questionable) shooting foul with 12 seconds remaining. Big man Garrett Hien hit both to bring the score to 67-65. Virginia inbounded to Kihei Clark, a school hero and the most seasoned player on the team. Clark got trapped by the baseline and apparently panicked, heaving up a wild Hail Mary. That's a fine move when the final seconds are ticking off but there were eight seconds left.
The pass was intercepted by Hien, who immediately hit JP Pegues for the go-ahead three pointer. Pandemonium. Absolute scenes. Kevin Harlan was the only voice we could've imagined on the call.
Virginia had a decent look at the basket after but missed and Furman pulled off the big upset.
The whole sequence was incredibly shocking for any number of reasons but the biggest might be that it was Clark who made the error. He played a huge role in Virginia's national title run a few years back and even made a pass just like this to beat Purdue. This is his fifth season as a Cavalier. He's exactly the guy who isn't supposed to make that kind of error in that kind of spot.
But he did. Now his college career is over and Virginia goes home early. Sports can be cruel.