Vikings Field Goal Overturned Upon Review For Extra Player, Extra Football on Field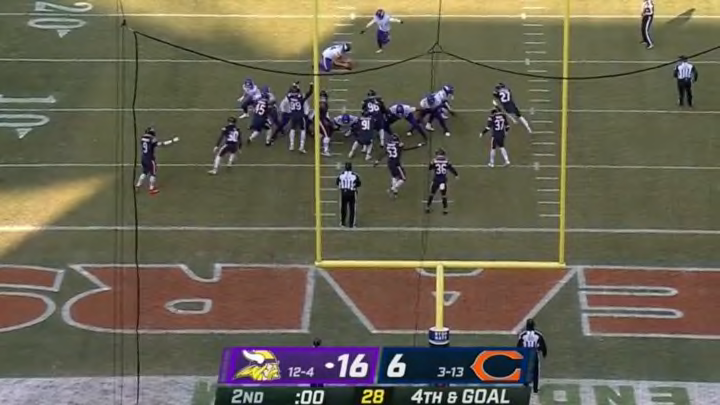 A disaster /
The Minnesota Vikings visited Chicago to play the Bears in Week 18. The home team benched Justin Fields due to injury and so started a QB rotation of Nathan Peterman and Tim Boyle, both of whom are surprisingly still employed. This went as expected and the Vikings had a pretty easy time of things, going up two scores in the second quarter. Minnesota was far from perfect in their own right, though, and absolutely bungled a goal-line situation as time was running out in the first half.
The Vikings had no timeouts with 20 seconds left on third-and-goal. Kirk Cousins decided this was a good time to throw a pass in the flat to Dalvin Cook, who was taken down far before he could reach the sideline or the goal line. Minnesota's field goal unit then sprinted onto the field to try to pull off a scramble drill with the clock ticking. They appeared to get it off as time expired-- but the field goal was overturned upon review.
That last part is remarkable in of itself. When was the last time a field goal was under review, much less overturned? Slow-motion replay revealed things went even more comically wrong for everyone involved except the Bears. The clock was absolutely at double zeroes when the ball was snapped. The Vikings had 12 players on the field. And if you look closely you can see the referees scrambling to throw a second ball off the field as Minnesota lines up.
A true comedy of errors. What else do you expect from Week 18?