VIDEO: Wild Crash Flips Zhou Guanyu at Start of British Grand Prix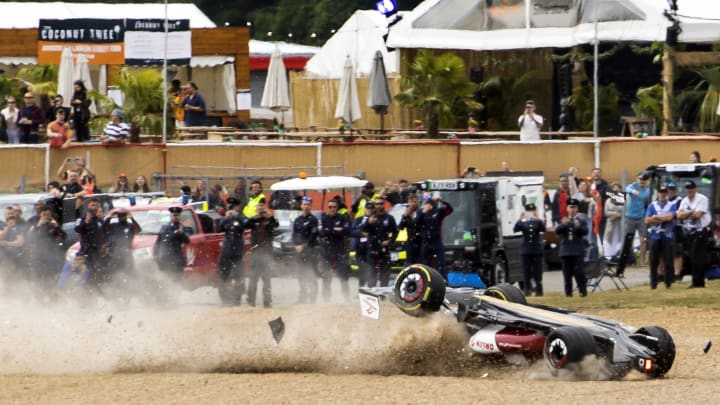 F1 Grand Prix of Great Britain"F1 Grand Prix van Great Britain" / ANP/GettyImages
The British Grand Prix took place today at Silverstone in Northhamptonshire, UK. The F1 race got off to a wild start as Alfa Romeo's Zhou Guanyu came out of the first turn upside down and skidded off the track. The ESPN broadcast did not have a replay while fans held their breath, worrying something horrible had happened to Zhou. Here's video of the start of the race.
Here's video of the accident that caused Zhou's car to flip. Three cars were involved and one got under Zhou's car causing him to turn over.
Zhou was able to walk away and is being evaluated.
UPDATE: He skidded quite a distance before flipping a few more times before getting caught by a net.
And here's a fan video. Absolutely insane.
And here is the shot of the final wreck.
AUTO-PRIX-F1-GBR / BEN STANSALL/GettyImages