VIDEO: Domonique Foxworth and Ryan Clark in Animated Dak Prescott vs. Carson Wentz Debate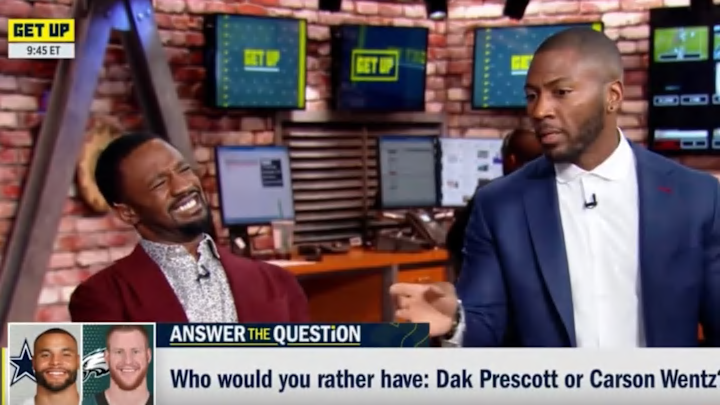 The Eagles play the Cowboys on Sunday Night Football this week, which makes it time to rev up the Carson Wentz vs. Dak Prescott debate. This is a good TV debate topic because there's no clear-cut winner -- it's not like you're measuring either of them up to, like, Patrick Mahomes, Russell Wilson, or even Deshaun Watson right now -- and has an element about whether the beholder prefers durability or future upside.
On Get Up on Wednesday, Domonique Foxworth and Ryan Clark got a little feisty. Foxworth believes that Dak has been better and more successful, that even in recent Cowboys losses his QBR has been solid, and that he's a convenient scapegoat when Dallas loses. Clark said Dak is on a better team, but is a game manager while Wentz will be seen as a superstar. Foxworth took exception to the idea that Dak is on a better team, as the Eagles won the Super Bowl without Wentz.
It feels safe to say this won't be the last we ever hear of this conversation.